'Do it, Mehmet': German anti-litter campaign under fire for using Turkish names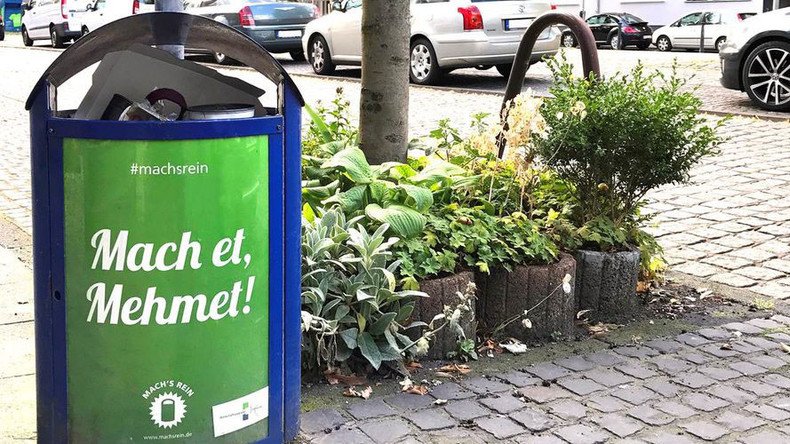 A German city's campaign to encourage citizens to throw away their trash has angered the area's Turkish community because it includes garbage bins that urge people with names such as 'Mehmet' and 'Gülcan' to pick up their litter.
The city of Duisburg launched the campaign about a month ago in an effort to keep the community clean, putting signs on around 6,000 trash cans.
The signs have slogans encouraging people to throw their litter away, such as "Come here, Kevin" and "Clean, Steffi."
But some also include Turkish names, with slogans such as "There you go, Gülcan" and "Do it, Mehmet."
The use of those names in the campaign have left some people within the city's Turkish community angry.
"Duisburg apparently has the impression that only Turks throw their trash on the ground," one person wrote on Twitter. "What's next?"
The campaign even made it to Turkey, with television station Oda TV covering the story. It was later picked up by Turkey's BirGün newspaper.
Campaign spokeswoman Silke Kersken said she was "surprised" at the reactions the anti-litter push was receiving.
"We did not expect this reaction," she said, as quoted by the Westdeutsche Allgemeine Zeitung.
She went on to state that those behind the campaign simply wanted to encourage people to throw their trash away by using a bit of humor.
READ MORE: German FM tells Turkish nationals 'You belong here with us,' amid tensions with Ankara
"The names were absolutely randomly selected and there was no intention to insult anyone," she said, noting that it was important to be inclusive of the Turkish community.
Melih Keser, a local Green Party integration politics spokesman, took to Facebook to squash any claims that the campaign was racist.
"For many days, I have noticed how my Turkish friends have been flustered by the campaign," Keser wrote.
"I would like to say that it is not a deliberately Turkish-hostile campaign… if it were a case of discrimination or exclusion, I would be one of the first to stand up and go against it. But here this was not the case..." he wrote, noting that non-Turkish names including Lisa and Robert were also used.
He did, however, note one problem with using the name Mehmet in the campaign, stressing that it could be considered a holy name because it is derived from 'Mohammed.'
Keser also pointed out that anyone can go on the campaign's website and insert any name into an automatic generator, which will place the name into one of eight slogans.
Duisburg is home to approximately 85,000 people of Turkish origin, though other estimates put that number as high as 100,000. Germany as a whole is home to roughly three million Turks.
You can share this story on social media: