Miraculous rescue: Missing worker manages to get in touch after a day in flooded mine (VIDEO)
One of the nine miners that were still missing after the Mir diamond mine was flooded in Russia's Far East reached out to rescuers and was saved, bringing the total of those rescued to 143.
Read more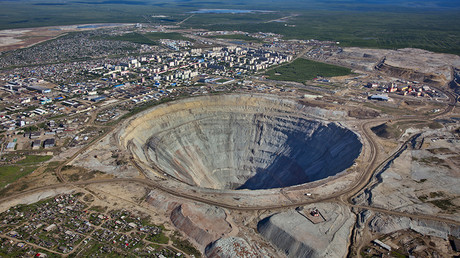 Alisher Mirzoyev, 36, got in touch with the rescuers himself, diamond miner Alrosa said in a press statement on its website.
An exclusive video obtained by Ruptly news agency shows the miner being taken to the surface, with other miners welcoming him and applauding.
Mirzoyev is seen in the video being carried on a stretcher. He is known to have been sent to the hospital later.
"He is very weak, complains about pain in his legs. However, there are no external injuries. His reaction is a bit slow," the deputy health minister of the Republic of Yakutia, Lyudmila Verbitskaya, told TASS.
Alrosa added that Mirzoyev has contused lung and suffers from hypothermia. The miner has been hospitalized and his life is not in danger, the company added.
So far, eight miners remain underground, and the rescue operation is continuing in "very complicated conditions," the head of the Republic of Yakutia, Egor Borisov, told journalists.
"The water hit the mine very powerfully, so there are large quantities not only of water, but also the pulp, and the water is very dirty," Borisov said.
"The guys who were pulled from the mine yesterday" are also taking part in the operation, he added.
Debris and dirt are now being cleared in an attempt to reach the other missing miners.
A part of the mine has not been flooded, and "there is hope" of finding the missing miners alive, the head of the Republic of Yakutia said, citing "services that are right inside the mine."
There were 151 people at the mine in total, and 143 of them have been rescued.