Alrosa diamond mine flooded in Russian Far East, 9 miners missing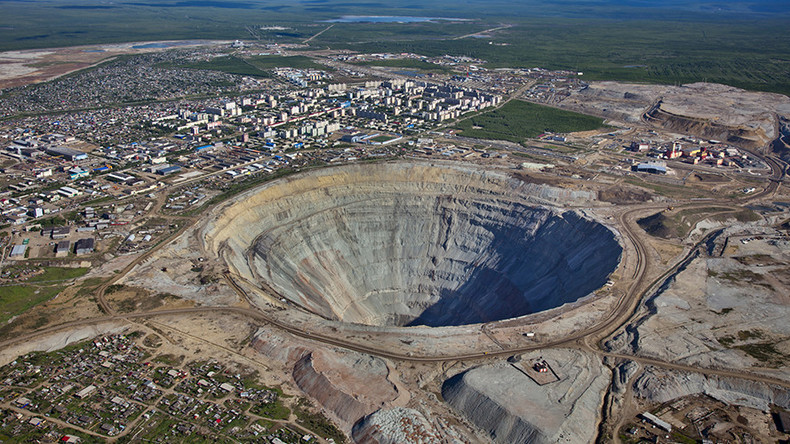 At least nine miners are still missing after flooding at the pumping station of the Mir diamond mine, belonging to Alrosa in the Russian Far East Republic of Yakutia. Rescuers have evacuated 142 miners, the company said in a statement.
The water breakthrough took place at 4:30pm local time, when 151 people were in the mine. Out of the 142 miners rescued, two suffered light injuries, Alrosa says.
Rescuers have established the location of the nine people that remain in the mine, but have not been able to contact them so far, according to Alrosa CEO Igor Sobolev.
A mobile diving rescue unit of the Russian Ministry of Civil Defense and Emergency Response is expected to join the search and rescue operation at the flooded mine, TASS reports.
More than 80 rescuers have already been deployed to the mine. Another mine-rescue and diving team, consisting of 30 specialists, will arrive at the scene together with the EMERCOM head, Vladimir Putschkov.
Alrosa's shares on the Moscow Exchange plunged 2.5 percent as news of the incident broke, but have since recovered most of the losses.
READ MORE: Russia's purest & most expensive diamond to go on sale
Yakutia authorities have launched an investigation into the incident, TASS reported, citing a source in the republic's prosecutor's office.
An exhausted pit filled with some 300,000 cubic meters of water may have been the source of the flooding in the mine, a local emergency services spokesperson said.
The Mir mine was opened back in the 1950s. The length of the mine tunnels reaches 10km (6.2 miles), according to the Alrosa website, and its depth is 1,000 meters (3,300ft).