EU sanctions against Russia over Siemens turbines violate intl law – energy ministry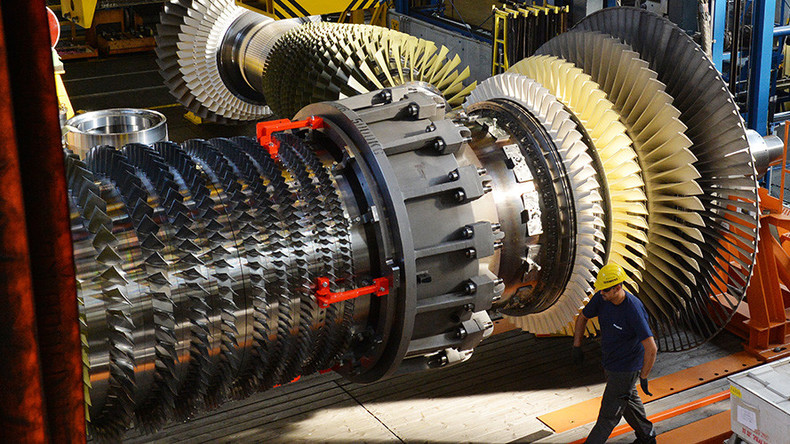 The new EU sanctions against Russia over the delivery of Siemens turbines to Crimea is in direct violation of international law, the Russian Energy Ministry has stated.
The Russian Ministry of Energy slammed the recent decision of the European Commission to broaden its sanctions, blacklisting more individuals and firms accused of delivering Siemens gas turbines to Russia's Crimea peninsula.
The ministry also emphasized that the EU interference in the dispute is illegal and politically motivated.
"The Ministry of Energy has no doubt that the EU took the decision, based solely on political considerations," according to a statement on Saturday.
"No legal basis for the inclusion of the employees of Minenergo [The Ministry of Energy] in the sanctions list was produced," the statement adds.
The ministry said that "political ambitions" will not impede Russia in meeting its commitments to the citizens.
"We are waiting for further clarifications from the European Union. The Ministry of Energy, in turn, is going to continue to ensure the consumers' energy security. Political ambitions must not be an obstacle for the governments to fulfill commitments to the citizens."
Siemens, according to the ministry, has become a "hostage of the situation."
On Friday, the EU added to the sanctions list three Russian officials: Russian Deputy Energy Minister Andrey Cherezov, the head of the department of operational control and management in Russia's electric power industry, Evgeniy Grabchak, and state firm Technopromexport CEO Sergey Topor-Gilka.
The move came following a more than a month-long row over the delivery of Siemens gas turbines to Crimea, which has been under EU and US sanctions following its reunification with Russia in 2014. Western companies are currently prohibited from doing business in Crimea.
In July, the German conglomerate said the four disputed turbines were initially intended for a project in the southern Russian region of Taman, not far from the Crimean Peninsula, but were "illegally moved to the region against clear contractual agreements." The company has suggested buying back the turbines, and wants to cancel the contract for delivery. It is also going to terminate agreements for supplying Russian power plants and halt equipment deliveries to state-run entities.
The equipment buyer, state-owned Russian company Technopromexport, said it bought the equipment on the secondary market and modernized it at Russian facilities.
The scandal stems from a report in early July, when Reuters posted a photo of the equipment on a ship in Feodosia, Crimea. The machinery was covered in tarpaulin in the picture and could not be immediately identified.
Later, Siemens filed a lawsuit against the Russian buyer, Technopromexport, claiming the company moved the equipment to Crimea in violation of international sanctions and bilateral agreements.
The turbines were reportedly to be installed on new power stations in Crimea. The region has suffered electricity shortages since its separation from Ukraine, as its power supply was almost fully dependent on the country.