Yazidi genocide by ISIS 'on-going', captives in danger in Raqqa – UN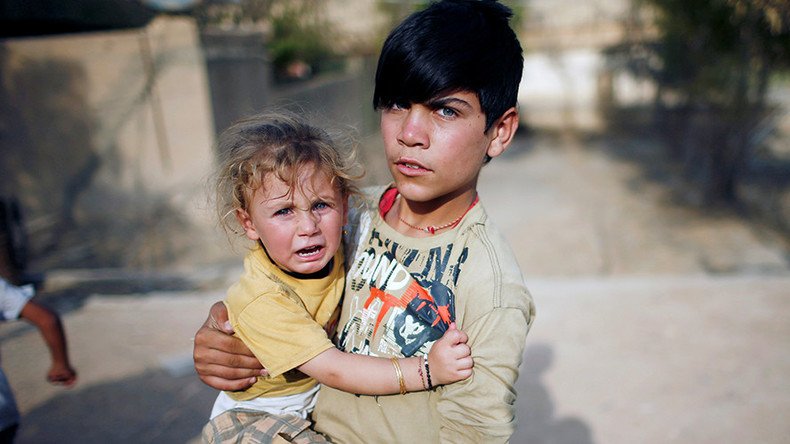 On the third anniversary of the start of Islamic State attacks against the Yazidis in Iraq, the UN commission on Syria has warned that captive Yazidi women are in particular danger as the noose around Raqqa tightens and has urged the coalition to rescue them.
"The genocide is ongoing and remains largely unaddressed," said a statement from the Independent International Commission of Inquiry on the Syrian Arab Republic, the body established six years ago to investigate human rights abuses in the conflict which has claimed over 300,000 lives.
"Thousands of Yazidi men and boys remain missing and the terrorist group continues to subject some 3,000 women and girls in Syria to horrific violence including brutal daily rapes and beatings. Some women and girls are being held in Raqqa city. As the Syrian Democratic Forces and international coalition offensive on Raqqa intensifies, reports have emerged of ISIL fighters trying to sell enslaved Yazidi women and girls before attempting to flee Syria," the statement says further.
On August 3, Islamic State (IS, formerly ISIS/ISIL) took control of the city of Sinjar in northern Iraq, a major population center for the Yazidis who number fewer than one million. After slaughtering thousands of predominantly fighting-age men, the Islamists – who view the Yazidis, who follow their own religion as "devil-worshippers" – enslaved between 4,000-10,000 mostly women and children.
"Yazidi boys were separated from their families, forced to convert to Islam and recruited as child soldiers. Many men and elderly women were also coerced into converting to Islam and used as forced labourers. Sites of religious and cultural significance to Yazidis were deliberately destroyed,"read a statement from four leading human rights groups dedicated to the Yazidis. It was released to commemorate the anniversary.
While the plight of the Kurdish-speaking minority received media coverage, little was done to specifically help the Yazidis. Over the last three years, some have escaped, others have died, with many found in mass graves. However, no specific rescue plan has been formulated to aid the Yazidis who had suffered severe discrimination even before the latest brutalities.
"The Commission recommends to all parties fighting ISIL to consider plans aimed at rescuing Yazidi captives and use all means available to ensure they are set free during on-going military operations," stated the UN.
With Islamic State territory shrinking and a battle raging for their proclaimed capital of Raqqa, focus is shifting to punishing the perpetrators of the systematic atrocities.
"The international community must also recognize ISIL is committing the crime of genocide against the Yazidis and undertake steps to refer the situation to justice, including to the International Criminal Court or an ad hoc tribunal," said the UN commission.
"The UN Security Council should immediately establish an international investigative commission to collect, preserve and analyse evidence of ISIS' atrocities in Iraq," said the human rights groups.
You can share this story on social media: