Rowdy Moscow reveler ruins live report by punching correspondent in the face (VIDEO)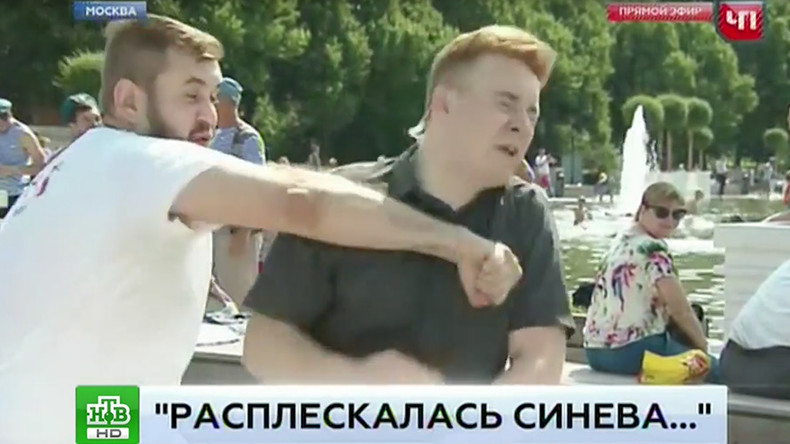 Some people think there's no such thing as a celebration without a good bar fight. One guy apparently failed to find one, so instead he punched a TV correspondent right in the middle of his live coverage of a military celebration in Moscow.
The reporter on the receiving end of the punch was Nikita Razvoz'zhaev, who works for the TV station NTV.
On Wednesday, he and his crew were at Moscow's Gorky Park, covering Airborne Troops Day.
Serving and former Russian elite troopers traditionally mark their professional holiday by bathing in city fountains, singing songs and otherwise enjoying themselves.
The burly bearded man seen in NTV footage of the incident was definitely spoiling for a fight. Loudly cursing and bragging that he would "take Ukraine," he barged right in front of the camera.
READ MORE: Bloodied man tied up by passengers after fear of flying leads to extreme drunkenness (VIDEOS)
Razvoz'zhaev asked him not to interfere, to which the man responded with a single punch to the correspondent's face. He then walked away, muttering that nobody could talk to him like that.
The Moscow police later reported detaining the attacker.
They said the man, who was not immediately identified, "had no connection" to the Russian airborne troops.