Russian future-gen fighter jet will 'burn homing missiles with laser defense'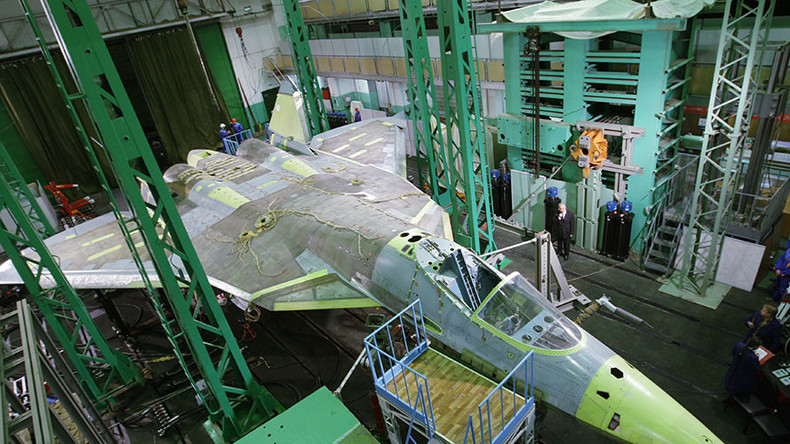 A future Russian sixth-generation air superiority fighter jet, currently in early development, will have laser point defense to burn down the guidance systems of incoming homing missiles, a defense contractor involved in the project said.
Russia is currently introducing its first fifth-generation fighter jet, the PAK FA, into series, but even so early R&D work is underway on its future replacement.
While even prototyping a sixth-generation fighter is still some way off, contractors involved in the project occasionally drop hints of what the future aircraft may look like.
One such contractor is Concern Radio-Electronic Technologies (KRET), a holding for producers of instruments and radioelectronic warfare systems used by the Russian military. According to Vladimir Mikheev, an aide to its deputy head, the aircraft would feature a laser point defense system to protect it from guided missiles.
"We have certain laser-based defense systems on our planes and helicopters now, but this is about powerful lasers, which will physically destroy warheads of attacking guided missiles," he said in an interview with TASS. "Basically, we will burn out the eyes of the missiles looking at us."
The interview was focused on R&D work currently conducted by KRET on a radar sensor system, which would eventually be used on the sixth-gen fighter.
Mikheev said it would have a photonic phase array – which uses laser pulses rather than radiation from conventional antennas for imaging. The technology, also dubbed radio optical phased array radar (ROFAR), is currently in the early stages of development globally, and Russia is racing against countries including the US and China to perfect it.
"Radio photonic radar, according to our estimates, would have a range significantly longer than existing radar systems. And since its radiation would cover an unprecedentedly broad bandwidth, we will get very precise positioning and, with signal processing, almost photographic-quality imaging," he said.
The system also promises better protection from electronic countermeasures and may be designed to contribute to an aircraft's communication and radioelectronic warfare functions, Mikheev said. He added that prototyping of the futuristic radar is underway.
"The radar has passed the stage of technical design and we have results with a prototype. We are currently conducting R&D for the photonic phased array antenna to work on specifications for a series variant, to make up our mind on its physical size, supported bandwidth and power output," he said, adding that KRET has made working prototypes for all principal parts of the system.
READ MORE: F-35 price tag may rise to $406bn despite Trump's vow to fix cost overruns
KRET expects that the final product would include several elements distributed throughout the fighter jet and integrated into a unified information network, rather than a single device.
Mikheev added that the general concept of the sixth generation fighter in Russia envisions both manned and unmanned variants.
Each manned aircraft would be accompanied by a swarm of drones with payloads tailored for a specific mission. The drones would be capable of using weapon systems like microwave emitters, which are unfeasible for manned aircraft because they pose a danger to the pilot. Mikheev believes that the swarms would number 20-30 aircraft, optimal for a human capability to direct them, although the figure may change after practical tests of the concept.