'Sell your wife if you can't afford toilet': Indian official goes viral after insulting villager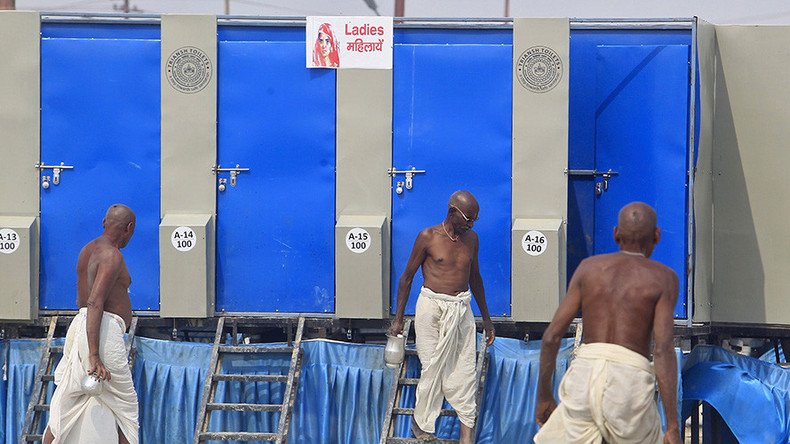 An Indian magistrate trying to promote cleanliness is under fire after telling a man to "sell his wife" if he can't afford to pay for a toilet in his house.
Kanwal Tanuj, a magistrate from the district of Bihar, made the comments during an event in Jamhor Block last Friday, which was aimed at promoting the country's nationwide cleanliness campaign.
READ MORE: Freak accident sees TV presenter crushed by falling palm tree in Mumbai (GRAPHIC VIDEO)
The Clean India Mission (Swachh Bharat Abhiyan) is a scheme launched by the Indian government which is aiming to raise the standards of cleanliness in cities and towns across the country.
The Indian Express reported that Tanuj opened his speech by calling on the crowd to obey the campaign's sanitation standards in order to safeguard the dignity of women.
"Save the dignity of your women if you can. How poor are you?" he said.
But when a member of the crowd said he could not afford to pay for a toilet in his home, Tanuj responded: "If that is the case then go and sell your wife."
"If this is the mentality you have then go and sell your wife. So many people talk about advance payment, they get advance and then spend it on useless things," he continued.
READ MORE: Indian man arrested for masturbating at German student
He said that if people have money to spend on liquor and tobacco, then they should be able to build a toilet.
The speech has since gone viral on social media. However the district magistrate has since claimed that the widely-viewed clip gave a "distorted version" of his speech.
"It's a distorted version of my speech that is being highlighted. The entire speech was an appeal to the men about the respect of ladies and not about showing disrespect," he said.
You can share this story on social media: