Pope shuts off Vatican fountains for first time in living memory as Rome hit with drought
Published time: 25 Jul, 2017 17:07
Edited time: 26 Jul, 2017 08:26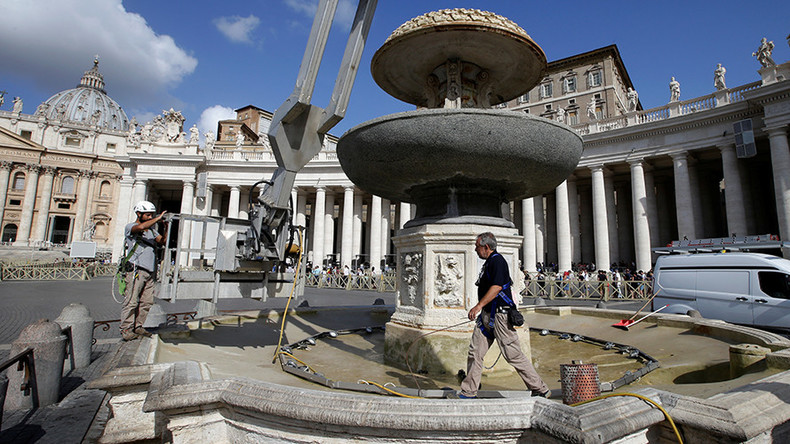 All 100 Vatican City fountains, including two Baroque masterpieces in St Peter's Square, will be shut off in the coming days as a drought sweeps Rome and other parts of Italy.
Vatican spokesman Greg Burke said it was the first time the Vatican could recall turning off all of its fountains and reflected Pope Francis' views on the environment.
"This decision is very much in line with the pope's thinking on ecology: you can't waste and sometimes you have to be willing to make a sacrifice," he told Reuters.
"This is the Vatican's way of living [in] solidarity with Rome, trying to help Rome get through this crisis," Burke added.
While the decision is likely to upset summer tourists who look forward to viewing the Vatican's famed fountains, water conservation is being widely encouraged as Rome's authorities consider the introduction of strict water rations.
Rome's water reserves have dwindled greatly with the capital experiencing an average of 73 percent less rainfall across June and July. Italy also experienced its third driest spring in 60 years this year.
A ban on withdrawing water from Lake Bracciano has already been agreed and will kick in from on July 28.
"The truth is Lake Bracciano has fallen too much and we risk an environmental disaster," Nicola Zingaretti, the President of the local Lazio region, told Tgcom24 TV station, as cited by Reuters, adding that "it is a tragedy."
READ MORE: Exploiting nature 'sin' of our time – Pope
"I would like to invite Donald Trump here to let him see what it means not to respect climate accords," he added, referring to the US president's decision to pull his country out of the 2015 Paris Accord.
The Vatican's decision to shut off their fountains is just the latest show of support from the state and Pope Francis on environmental issues.
In 2016, at the World Day of Prayer for the Care of Creation, Pope Francis described climate change as a sin and said it was the result of a "selfish" system driven by "profit at any price."
"The world's poor, though least responsible for climate change, are most vulnerable and already suffering its impact," he said.