Iran & Iraq sign defense deal to step up military cooperation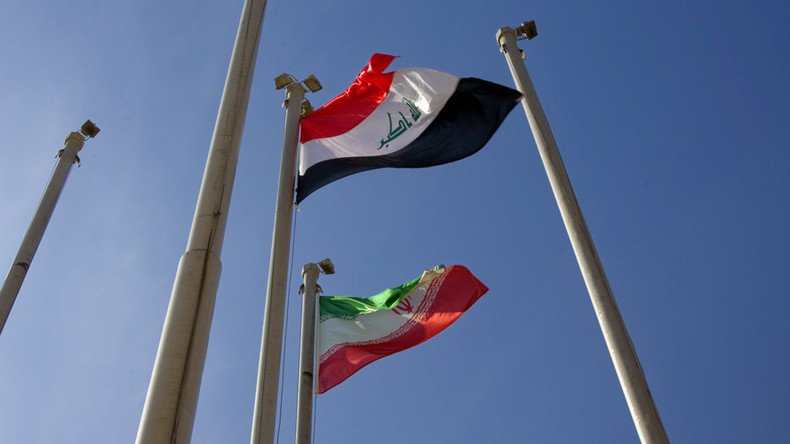 Iran and Iraq have sealed an agreement to boost military cooperation and to battle against "terrorism and extremism", Iranian media has reported.
The memorandum of understanding on defense and cooperation was signed Sunday during a meeting between Iraqi Defense minister Major General Erfan al-Hiyali and his Iranian counterpart Brigadier General Hossein Dehqan.
A delegation of high-ranking Iraqi military officials had arrived in Tehran Saturday.
"The expansion of cooperation and sharing experiences in the fields of fight against terrorism and extremism, border security, training, logistics, technical and military supports were included" in the memorandum, the IRNA news agency reported.
The two ministers further expressed hope that the agreement will lead to more serious and deep collaboration between Tehran and Baghdad.
The Iraqi defense minister also thanked Iran for its help in fighting Islamic State (IS, formerly ISIS/ISIL) adding, that the Iraqi Army will respond "to any aggression and occupation of its territory and will not permit formation of new seditions and breach of law aimed at partitioning of the country."
Al-Hiyali also stressed the crucial role of the Iraqi Popular Mobilization Forces (PMF) militia in the liberation of Mosul, stressing that "nobody is permitted to dismiss popular forces because they act based on law," according to IRNA.
His remarks mirror those of Iraq's Vice President Nouri al-Maliki in an interview given to Russia's RIA Novosti news agency earlier this week.
READ MORE: US contributed to ISIS creation, now tries to claim victory over it – Iraqi VP talks tough
"The main credit [in the Mosul victory] goes to the Iraqi soldiers, people's militia, Iraqi air force," al-Maliki underlined.
He added that he "regrets and denies [Americans] claiming the victory [in Mosul] is their achievement" which Washington now plans to use as a way to establish military bases on Iraqi territory in order to maintain influence in the region.
"The Iraqi society is against foreign military bases on the country's territory," al-Maliki said, adding that he has already warned the US against "coming back to Iraq and setting up bases here."
Following the recapture of Mosul from IS earlier this month, American military officials voiced the idea of stationing US troops in Iraq, even after the defeat of the terrorist group.
"The Iraqi government has expressed an interest in having the US forces and coalition forces remain after the defeat of ISIS. Our government is equally interested in that," senior US military commander in Iraq General Stephen Townsend said. However, he said, other US-led coalition members may join the mission as it is "still in the decision-making stages."
The defense agreement between Iraq and Iran might not be well received in Washington, as Iran-US tensions escalates.
The strained relations between Tehran and Washington had a relatively warmer spell during the term of president Barack Obama after years of sanctions and mutual distrust, culminating in the landmark Iranian nuclear deal. Iran agreed to limit its nuclear-material processing activities in return for an easing of sanctions.
New US President Donald Trump, however, described the deal as the "worst ever" and has vowed to cancel it, branding Iran a "state sponsor of terrorism" and slapping new sanctions on Tehran.
The US has acknowledged that there were no violations of the deal on the Iranian side, as US Secretary of State Rex Tillerson officially informed Congress in April that Iran was complying with the agreement.
Iran has in turn accused the US of jeopardizing its part in the deal with the new sanctions, calling the US "the world's leading state sponsor of terrorism."
A new batch of sanctions, aimed at Iran, Russia and North Korea is expected to be voted on next week.
You can share this story on social media: