Russia's Sukhoi T-50 fighter proves 'no physical limits exist for pilots' (VIDEOS)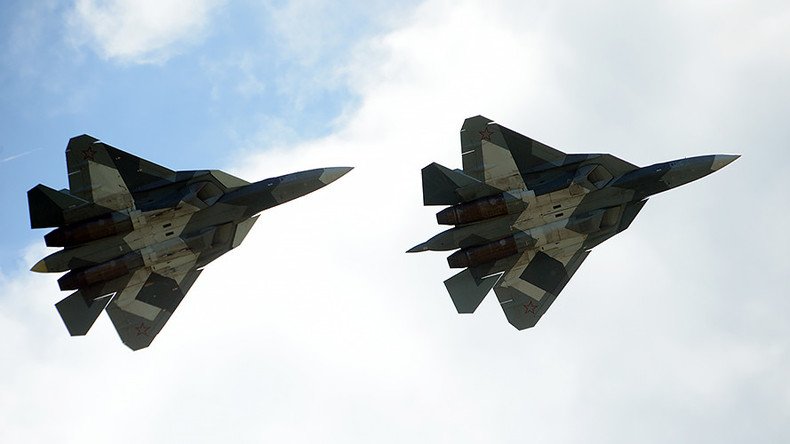 Pilots flying the advanced Sukhoi T-50 PAK-FA fighter jet see no physical boundaries in its use, the Russian Air Force Commander says. Spectators at the MAKS 2017 Air Show saw the cutting-edge aircraft in action.
"For now, I'd say that no physical limits exist for pilots of the PAK-FA when mastering and exploiting the aircraft," Russian Air Force Commander Viktor Bondarev said on Saturday, as quoted by TASS.
READ MORE: 'Better than US-made 5G': PAK-FA fighter to engage sea, air & ground targets
The PAK-FA (Perspective Air Complex of Frontline Aviation) T-50 is a fifth-generation fighter jet, equipped with advanced radar-evading stealth technology and "electronic pilot" function.
"Engineers are working to allow the aircraft do the most for the pilot," Viktor Bondarev added, highlighting the aircraft's characteristics, including improved engine, bombload, and flight range.
Having performed its maiden flight in 2010, the PAK-FA was built to replace the Sukhoi Su-27 in frontline tactical aviation. The Russian Air Force is expected to receive the first batch of 12 T-50s by 2019.
READ MORE: Military aviation makes up bulk of Russian arms exports
While the defense ministry is still looking forward to the new aircraft, visitors to the MAKS 2017 Air Show got to see the jets up in the skies, performing breathtaking aerobatic maneuvers. The two T-50s flew alongside two other super-maneuverable jets – the Sukhoi Su-34 and Su-35, awing the audience at Zhukovsky Airfield.
You can share this story on social media: