Saudi prince arrested after violent viral clips (VIDEO)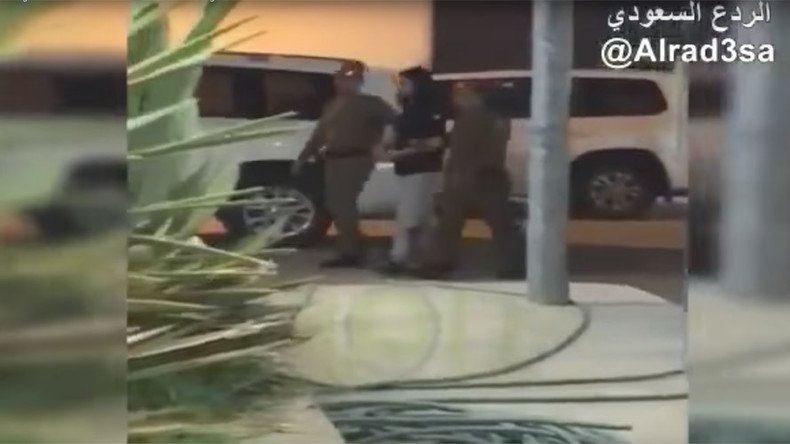 A Saudi prince has been arrested on the orders of King Salman bin Abdulaziz Al Saud, after footage emerged allegedly exposing his violent behavior, including aiming a gun at a man's head.
Local media outlets reported that Prince Saudi bin Abdulaziz bin Musaed bin Saud bin Abdulaziz was arrested on Thursday on the orders of the king, pending the outcome of an investigation into a series of video clips that went viral with the Arabic hashtag "prince transgresses against citizens."
READ MORE: Miniskirt-wearing woman 'released without charge' after Saudi arrest
In a video widely shared on social networks, a man, believed to be the prince, can be seen wearing a black T-shirt and gray sweatpants, as he is being led away in handcuffs by members of the security forces.
On Tuesday, several short clips emerged on social media, including one purporting to show the prince aiming a rifle at a man's head, who is already injured and bleeding. Another video shows a man bleeding in a car and being cursed at for parking in front of a house, while a third reportedly shows the prince punching and slapping a man sitting in a chair.
Warning: Readers may find some of the images in the video disturbing.
After the viral scandal broke out, King Salman ordered the prince's arrest, and many Saudis expressed their support for his decision on Twitter.
READ MORE: 'They used to lead camels': Saudi prince stands up for right of women to drive
"The era of slavery and injustice is over. This is the time of equity and justice," wrote one user. "Whatever you do, you will not escape the hand of justice."
"We thank King Salman for his commitment to the citizens and to hold accountable every person that imposes his authority on the Saudi people, whether they are prince or not," wrote another.
نشكر الملك سلمان على حرصه على المواطنين ومحاسبة كل شخص يفرض سلطته على الشعب السعودي سواء كان امير او غيره.

#امير_يعتدي_علي_مواطنين

— طـلال عبدالله الوبير (@T_BEN_ABDULLAH) July 20, 2017
However, human rights activist Moudi Aljohani used the case to make a point about how the Saudi authorities are seemingly reluctant to pursue the royals' abuse of power.
READ MORE: 'World continues to reward Saudi Arabia despite crimes against women'
"This 'royal order' to arrest the prince is evidence of [the authorities] weakness or a lack of power," she posted.
Since ascending to the throne in 2015, King Salman has made a point of firing or otherwise punishing officials, including members of the royal family, who have been caught on camera being abusive to citizens. Saudi royals, while extremely privileged, are not immune from criminal charges and prosecution. In October, Prince Turki bin Saud al-Kabir was even executed for murder after shooting a man during a fight.
You can share this story on social media: