Bromance: Trump gushes over Macron as 'great guy' who 'loves holding my hand'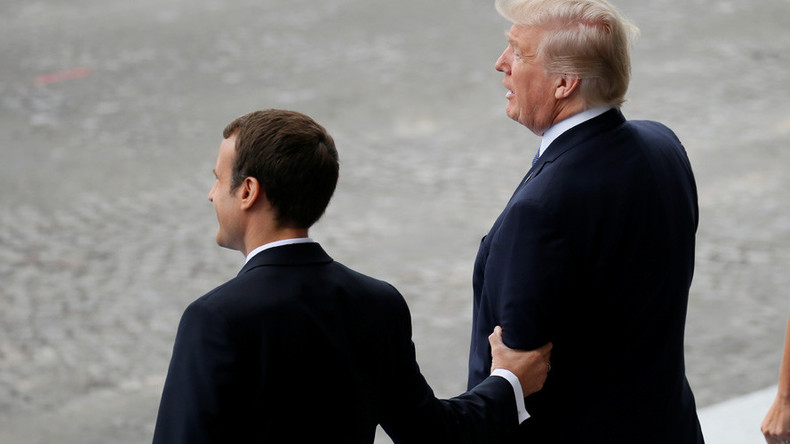 Donald Trump has praised his French counterpart Emmanuel Macron in a rather odd way, calling him a "great guy" who "loves holding my hand." It's not the first time the US president has made headlines for his hand-holding.
During an interview with the New York Times on Wednesday, reporter Maggie Haberman noted that Macron had been "very deferential" to the US leader.
In response, Trump called Macron a "great guy," as well as "smart" and "strong."
However, the leader then slipped in a rather unexpected remark about the French president.
"[He] loves holding my hand," Trump said. "People don't realize he loves holding my hand. And that's good, as far as that goes."
Trump and Macron did enjoy a rather passionate handshake – or perhaps hand-holding – session in Paris earlier this month.
The clench began in a somewhat unconventional way, as the two leaders walked side-by-side alongside their spouses. After 11 seconds, they stood still, but still refused to let go of one another as they chatted.
After 15 seconds of non-stop hand-holding, Trump upped the ante by giving Macron a touch on the chest – all while still refusing to let go.
The leaders spiced it up a bit at 19 seconds, shaking their hands in a side-to-side motion.
At one point, Trump leaned in to give Macron's wife a kiss on the cheek while still holding onto the French president. He then grabbed Macron's wife by the hand as well, creating an awkward triangle.
The Trump-Macron clutch stopped after 32 seconds, only to briefly resume again 17 seconds later.
Trump's interaction with the French president isn't the first time the US leader has found himself in the media spotlight over his handshakes – or hand-holding.
He also made headlines when meeting Japanese Prime Minister Shinzo Abe in February, shaking his hand for nearly 19 seconds.
In January, he and British Prime Minister Theresa May were photographed holding hands at the White House.
A photo of the encounter quickly went viral, and provided British anti-Trump protesters with ammunition as they demonstrated against May's invitation for the leader to visit the country.
May later said the gesture simply amounted to Trump being chivalrous.
"I think he was actually being a gentleman," she told Vogue magazine in March. "We were about to walk down a ramp, and he said it might be a bit awkward."
Of course, Trump has also made headlines for not shaking hands. In March, a video of the US leader with Angela Merkel showed him appearing to ignore a call from journalists to shake hands with the German chancellor. He also ignored Merkel herself, after she leaned in and asked, "Do you want to have a handshake?"
You can share this story on social media: