HRW says mass execution site found in Mosul as Iraqi govt admits 'individual acts' of abuse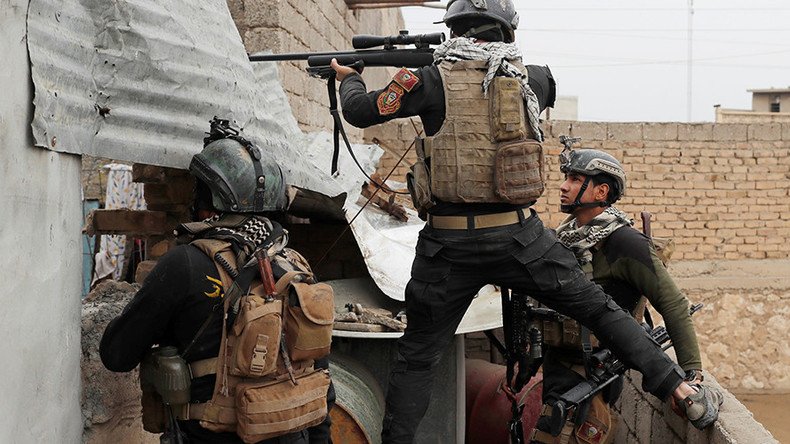 An execution site with 17 apparent victims of extrajudicial killings was found near the Old City of West Mosul, Human Rights Watch (HRW) has said. The find is among a flood of evidence of atrocities being committed by Iraqi troops, the rights group pointed out.
The site was studied by "international observers, whose evidence has proven reliable in the past," HRW said in its latest report. It was located in a Mosul neighborhood west of the Old City retaken from Islamic State (IS, formerly ISIS/ISIL) back in April.
An unnamed shopkeeper reportedly led observers into an empty building in the area and showed them "a row of 17 male corpses, barefoot but in civilian dress, surrounded by pools of blood."
Many of the corpses were blindfolded and had their hands tied behind the back. The shopkeeper told the observers Monday that the Iraqi Security Forces' 16th Division – recognizable by their badges and vehicles – has been in the area four nights before, and that he heard multiple gunshots from the area around the empty building. The bodies that he saw next morning were lying in positions suggesting they were shot dead there.
The discovery is one of several instances of suspected extrajudicial killings by Iraqi troops in Mosul, HRW continued.
Another international observer told the organization that on July 10, a unit of Iraq's elite Counter Terrorism Service (CTS) forced a handcuffed man into a destroyed shop located west to the Old City. Several gunshots were heard. The man's body with several bullet holes in the back of his head was found inside the shop after the soldiers left.
HRW cited other reports of suspected killings of people accused of being IS affiliates in various parts of Mosul, once Iraq's second-largest city.
There are also reports of torture and abuse of civilians blamed of siding with Islamists. In one case, Iraqi soldiers brought at least five suspects out of the Old City and strapped them to the hoods of their Humvee vehicles, when temperatures in the city often reached 48 degrees Celsius, (118 degrees Fahrenheit), the group said.
Allegations of such abuses are sometimes backed by footage taken by perpetrators themselves, the report, said. Iraqi troops seem "to have so little fear that they will face any consequence for murdering and torturing suspects in Mosul that they are freely sharing evidence of what look like very cruel exploits in videos and photographs," said Sarah Leah Whitson, a Middle East director at HRW.
"Excusing such celebratory revenge killings will haunt Iraq for generations to come," she warned. "Relentless reports, videos, and photographs of unlawful executions and beatings by Iraqi soldiers should be enough to raise serious concerns among the highest ranks in Baghdad and the international coalition combatting ISIS," Whitson said.
"As we well know, in Iraq, if the government doesn't provide an accounting for these murders, the Iraqi people may take matters into their own hands."
The Iraqi government has acknowledged the possibility of its troops being complicit in human rights violations but maintains it has not become commonplace.
"Any violation against the law or any violation against a person's dignity is not acceptable and we will chase them (perpetrators) down," Prime Minister Haider Abadi said according to AP. He added these "individual acts" will not be tolerated.
"As Prime Minister Abadi enjoys victory in Mosul, he is ignoring the flood of evidence of his soldiers committing vicious war crimes in the very city he's promised to liberate," Whitson commented. "Abadi's victory will collapse unless he takes concrete steps to end the grotesque abuses by his own security forces."
Iraqi forces reclaimed Mosul earlier this month, some three years after the city was captured by Islamic State militants.
The atrocities committed by the jihadists have gained worldwide notoriety. But critics of the Iraqi troops say their exploits in liberated Mosul can be equated to the actions of the Islamists they have ousted.
You can share this story on social media: