Blue Whale 'suicide game' ringleader jailed for 3 years in Russia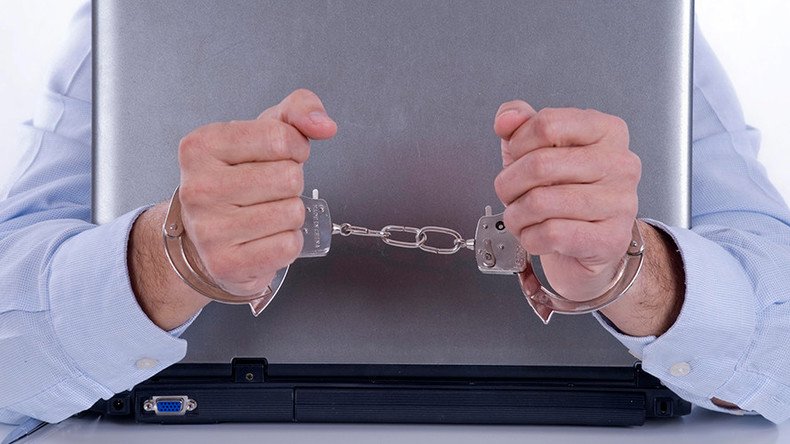 The curator of the social media 'suicide game' dubbed 'Blue Whale,' Filipp Budeykin, has been sentenced to 3 years and 4 months in prison by a court in the Russian Siberian city of Tobolsk after pleading guilty.
Budeykin,22, was detained last year with the investigation concluding in June.
He was initially suspected of 15 attempts of inciting teenagers to commit suicide across Russia but was eventually convicted on two counts.
Budeykin organized several closed so-called 'death groups' on Russia's VKontakte social media network in April and May 2016, according to investigators.
Operating under the nickname Filipp Lis (Fox), he attempted to persuade two teenage girls to take their own lives.
Both tragedies were averted – a 16-year-old girl in Kazan was prevented from committing suicide by police and a 17-year-old victim in the Tyumen region was saved by doctors.
Budeykin cooperated with the investigation, admitted his guilt and repented, Tass news agency reported.
The man initially claimed he was suffering from bipolar disorder but the court ruled him to be sane.
In the early days of the investigation, the 'Blue Whale' game curator confessed that he viewed his victims as "biological waste," saying, he was "cleansing the society" from those who didn't deserve to live.
Budeykin became the first person in the country to be convicted of being involved in 'death groups.'
In late May, the Russian State Duma passed a bill that introduced criminal responsibility and sentences of up to 6 years in prison for inciting children to commit suicide or involving them in life-threatening games such as Blue Whale.
READ MORE: Duma approves anti-suicide bill to combat Blue Whale global scare
On Wednesday, MPs agreed on toughening the punishment for incitement of suicide to 5-10 years behind bars. If the victim is especially vulnerable, like a child or a pregnant woman, the punishment is up to 12 years, and if there is more than one victim, up to 15.
The Blue Whale challenge made headlines last year after an article in Novaya Gazeta claimed that at least 130 teenagers in Russia were prompted to commit suicide by these kind of closed social media groups.
Vulnerable teenagers were allegedly being contacted by the game's 'curator' on the internet and manipulated into completing a number of stunts over the course of 50 days.
The challenges involve various forms of anti-social behavior and self-harm which allegedly culminate in the supervisor demanding the player to take their own life.
The teens are told to send videos and photos as proof that they have completed their tasks.
According to Russia's media and telecom watchdog, Roskomnadzor, its agents found and blocked 4,751 internet pages with instructions on suicide or calls to commit such an act in 2016.
The Blue Whale game has been linked to several teenage suicides in recent months, including the deaths of Veronika Volkova, 16, and Yulia Konstantinova, 15, in the Irkutsk Region in February.
The two teenage girls jumped from the roof of an apartment block in the town of Ust-Ilimsk. Konstantinova had earlier posted a picture of a blue whale on her social media pages.
You can share this story on social media: