'Helping the enemy': US angry after Turkish media reveals American base locations in Syria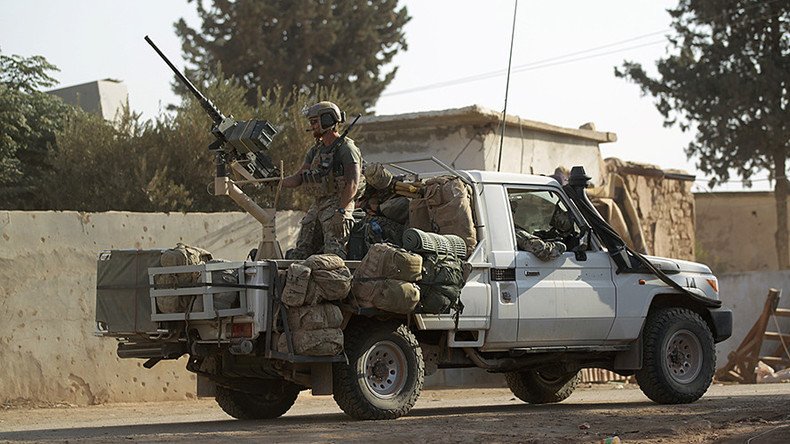 The ongoing feud between NATO allies United States and Turkey over American support of Kurdish militias has reached a new low, after Turkish state news outlet Anadolu Agency published a list of classified US bases and outposts in Syria.
Without citing specific sources, on Monday night Anadolu news agency unveiled a list of ten US outposts located in areas controlled by "terrorist" Kurdish militias in the provinces of Aleppo, Hasakah and Raqqa.
"While we cannot independently verify the sources that contributed to this story, we would be very concerned if officials from a NATO ally would purposefully endanger our forces by releasing sensitive information," US Central Command wrote back to RT, when asked to comment on the piece.
The locations of two of the bases, in Rmeilan district (in Hasakah province) and Harab Isk village (near Kobani, in Aleppo province), had already been widely publicized, but the others had been mentioned only in outside reports, or were completely unknown. Anadolu's story also provided systematic and detailed information about troop numbers, equipment, and US operational procedures at the outposts.
Washington was so incensed that it even tried to prevent US media from reprinting the story, after it had already appeared in the Turkish media, The Daily Beast reported.
"The discussion of specific troop numbers and locations would provide sensitive tactical information to the enemy which could endanger Coalition and partner forces," Colonel Joe Scrocca, director of public affairs for Operation Inherent Resolve, reportedly wrote to the New York-based Daily Beast, which was the only major US outlet to pick up the story by Wednesday morning.
"Publishing this type of information would be professionally irresponsible and we respectively [sic] request that you refrain from disseminating any information that would put Coalition lives in jeopardy," Scrocca added.
Ankara has long resented American support of Kurdish forces, which are currently leading the assault of Raqqa, the self-proclaimed capital of Islamic State.
On Monday, Turkey's National Security Council proclaimed that the Syrian-based YPD is the "same organization" as the separatist PKK that operates inside the country.
Turkish officials said that weapons freely flow between the two groups, and virtually accused Washington of arming "terrorists," saying that "some allies" apply "double standards."
'US uses residential areas, camps, factories for facilities'
The US operates several types of facilities in the Kurdish-controlled territories, the Anadolu Agency claims, citing its reporters.
Some are "field-type military points" which are "usually hidden for security reasons, making it hard to be detected."
The most prominent of these is Rmeilan, established in Hasakah province in October 2015. It has an airfield through which cargo planes deliver weapons to the fighters – one of the two major arms routes into the country, along with a land route from Iraq, according to the news agency. Another is Harab Isk, a helicopter base set up near Kobani in March 2016.
Apart from the more traditional facilities, the US-led coalition "uses some other places which are hard to be detected like residential areas, PKK/YPG camps, easily transformed factories."
Eight of the facilities are staffed with officers responsible "for airstrikes and artillery shelling, military consultants, training officers, [and] operational planning officers."
"The equipment in the military points includes artillery batteries with high maneuverability, multi-barrel rocket launchers, various mobile equipment for intelligence and armored vehicles such as 'Stryker' for general patrols and security," the report adds.
Anadolu provided extra details, concerning these facilities:
In the Al-Hasakah Governorate in the north-eastern corner of Syria, there are three other bases. There are 150 US special forces soldiers in the Ash Shaddadi district, 100 in Tal Baydar, as well as "foreign soldiers from the US-led coalition stationed in the old farm district of Tal Tamir."
In Manbij, a city in the Aleppo Governorate, there are the two outposts, both constructed last year. Its purpose is to protect Kurdish forces against the Free Syrian Army – the Turkish-sponsored militia, once dedicated to fighting the Syrian government, but which has since been deployed against the Kurds.
Ayn Issah in Raqqa Governorate is home to "around 200 U.S. soldiers and 75 French special forces units," while Mistanur Hill, near Kobani houses an unspecified number of troops from both nations.
One of the key sites appears to be in Sirrin near Kobani, as the YPG is "supplied with military equipment and ammunition through this post," which also "also serves as a communication center of the anti-Daesh coalition and used for disrupting Daesh communications."
You can share this story on social media: