Copper-covered baby & adult mummies unearthed in Russia's Far North (PHOTO)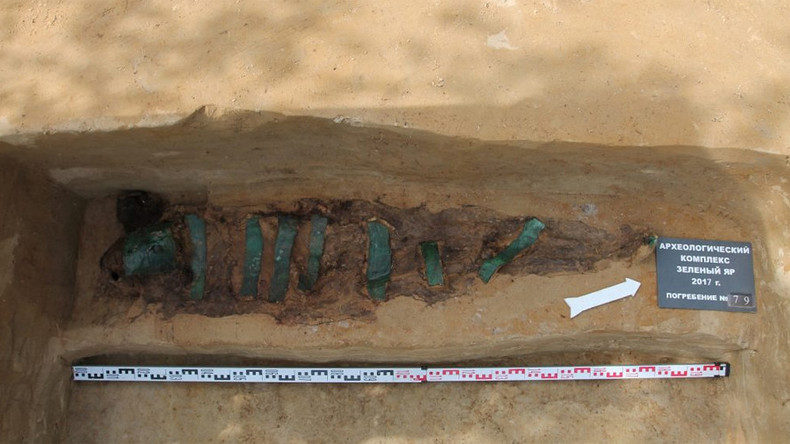 A perfectly-preserved mummy of an adult bound in copper plates from head to toe has been dug up in Russia's Far North, alongside the mummy of a "tiny" baby. The discoveries could shed unique light on medieval burial and medical practices.
The remains were found near Zeleny Yar archeological site in the Yamalo-Nenets Autonomous Region, which was discovered in 1997, and has since been the source of dozens of rare finds.
"This year's field season has been highly successful. We've opened 10 graves, five of which were never looted in ancient times. For a memorial like Zeleny Yar this is unusual,"said Aleksandr Gusev, a researcher from the Scientific Center for the Study of the Arctic (SCSA), who led the expedition.
The two preserved mummies were wrapped in birch bark and thick fabric. The adult, of a height of about 170cm (5ft 6in), was covered in copper plates from head to toe, while the baby, under a year old at the time of death, was "sprinkled" with small fragments of a copper cauldron, said Gusev.
The mummies have been sent to the Institute of the Development of the North, in Tyumen, 500km south from Zeleny Yar.
"When we understood that the adult's burial cocoon was in good condition, we didn't risk opening it on the spot. We extracted it [the mummy] with the soil to avoid spoiling the fabrics," said Evgenia Svyatova, an anthropologist from the Center for Protection and Use of Historical and Cultural Monuments.
A Korean team will examine them alongside Russian scientists.
Researchers are planning to subject the mummies to computer tomography to identify their condition. The examination may also show some ritual artifacts inside the cocoons.
The mummies in Zeleny Yar, located by the edge of the Polar Circle, were buried between the 6th and 13th centuries. In 2013-2017 archeologists managed to find 47 separate graves. In 2015, a mummy of a six to seven-year-old boy dating back to the 13th century was unearthed. The child, wrapped in a cocoon of furs and birch bark, was found with a small bronze ax.
You can share this story on social media: