Japanese whalers defy moratorium, start 'research hunt' before going commercial
Published time: 18 Jul, 2017 15:16
Edited time: 18 Jul, 2017 16:12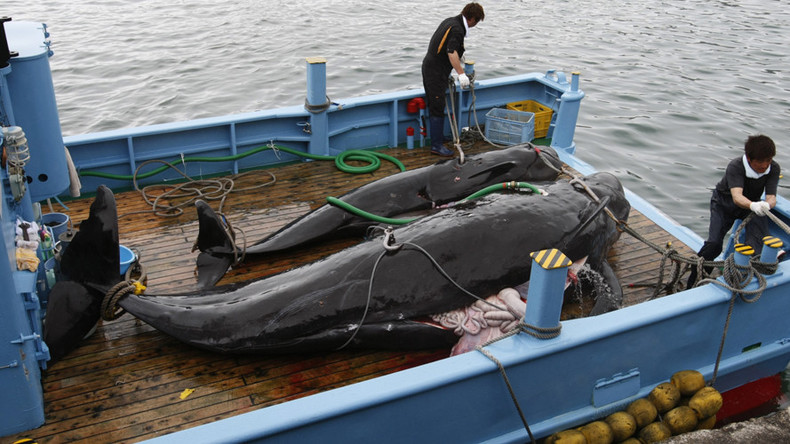 Two vessels have left the port of Hachinohe in northern Japan for "research whaling" off the country's shores. The hunt will collect what Japanese fishing officials say is scientific data necessary to begin commercial whaling.
A pair of whaling ships left the port of Hachinohe in Aomori prefecture on Tuesday morning, according to the Japan Times citing a whaling group and the country's Fisheries Agency.
Japanese fishing industry officials said the ships will catch 30 minke whales in the northwestern part of the Pacific until mid-August to study their stomach contents.
"We aim to collect scientific data to be able to begin commercial whaling again," Yoshifumi Kai of the Association for Community-Based Whaling said at the ceremony marking the ships' departure.
The next stage of whaling in the area will begin later in the fall, the newspaper said.
Despite international condemnation, in early July Japan passed a controversial law that promotes resuming commercial whaling.
Japan has long insisted that most whale species are not endangered and maintains that eating whale meat is part of its culture.
According to Whale and Dolphin Conservation, a UK charity, since the imposition of a hunting moratorium, due to falling whale populations, Japan has captured and killed about 19,000 of the mammals. The first 5,500 were caught in defiance of the moratorium, and the rest under the guise of scientific research. In total an estimated 45,000 whales have been killed by humans in the past three decades.
In 2014, the UN's International Court of Justice demanded in a ruling that Japan halt whaling in Antarctic waters.
The country suspended whaling for one season, only to impose quotas on the number of whales being harpooned, and resumed hunting in 2015.