Duterte to sign off on Muslim self-rule for Mindanao in counter-extremism drive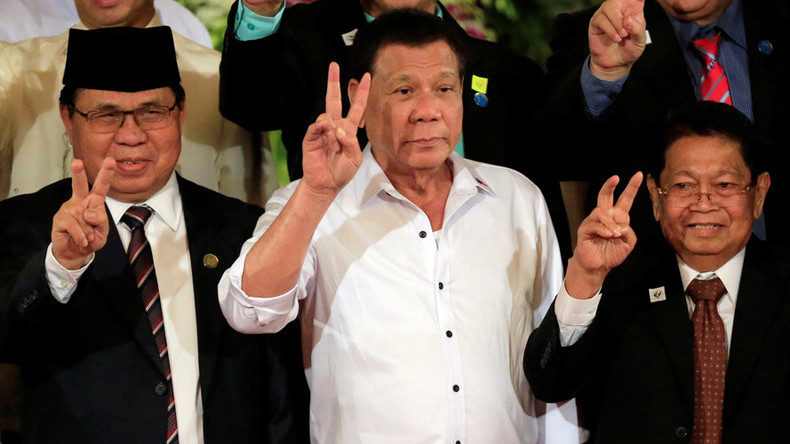 Philippines President Rodrigo Duterte is expected to push through long-delayed legislation giving autonomy to predominantly-Muslim parts of the embattled southern island of Mindanao.
It's hoped the move will stem the rise of extremism in a region which has seen 500 people killed and thousands more displaced during the most recent conflict between Philippines forces and militants linked to the Islamic State (IS, formerly ISIS/ISIL) in the island's capital city of Marawi.
"This moment is a significant step forward in our quest to end centuries of hatred, mistrust and injustice that cost and affected the lives of millions of Filipinos," Duterte said in a speech Monday, as cited by Reuters.
Muslim extremists have been engaged in a decades-long insurgency which has claimed the lives of 100,000 people on Mindanao since the 1970s.
The Bangsamoro Basic Law (BBL), which proposes executive, legislative and fiscal autonomy for Muslim-majority areas of Mindanao, was the product of a peace agreement between the Muslim separatist Moro Islamic Liberation Front (MILF) and the Manila government in 2014.
Despite the bill being dogged by delays, the government is hopeful it will pass into law within the year.
"The next 12 months are full of opportunity but also fraught with so much danger. The dangers are staring us in the face: violent extremism, the source of the crisis in Marawi," said Irene Santiago, the government's chief peace negotiator.
Speaking at a MILF meeting Monday, the group's chairman Al Haj Ebrahim said he believes the delay in passing BBL has led directly to the Marawi conflict.
"We live in very dangerous times... we watch with utter disgust of the destruction that violent extremism has inflicted in the city of Marawi," Ebrahim said.
"These misguided people have filled the vacuum created by our failure to enact the basic law and (they) feed into the frustration of our people."
Meanwhile, Duterte has asked Congress to extend martial law on Mindanao until the end of the year.
The constitution limits martial rule to 60 days but Congress can vote for an extension.
"The primary objective of the possible extension is to allow our forces to continue with their operations unhampered by deadlines and to focus more on the liberation of Marawi and its rehabilitation and rebuilding," said Presidential Spokesman Ernesto Abella, reading a letter signed by Duterte.