Duterte approval rating rises despite human rights abuse claims – report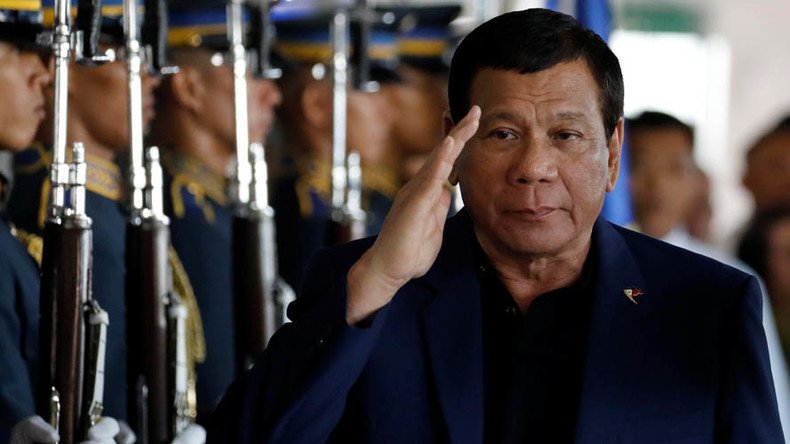 Amidst an ongoing battle against Islamic State-linked militants in the south of the country, and accusations of human rights abuses, Philippines President Rodrigo Duterte has experienced a boost in popularity, according to a new survey.
The survey by research company Pulse Asia indicates that Duterte's overall approval rating has risen from 78 percent in March to 82 percent.
Pulse Asia, a polling company run by academic Ronald Holmes, interviewed 1,200 adults in June as part of their 'Ulat ng Bayan' survey.
"Trust is the majority sentiment toward President Duterte (81%)," Pulse Asia state in the report.
The research adds that Duterte enjoys positive trust ratings in "all geographic areas and socio-economic groupings."
Residents from the southern island of Mindanao, where Duterte was once mayor of Davao City, have the most faith in the president, the report suggests.
Responding to the findings, a spokesperson for Duterte said it was "pleasant news," according to PTV News.
"At the end of the day, he will not claim it for himself," said Presidential Spokesperson Ernesto Abella. "He will give due credit to his cabinet and to the participation of all agencies."
In 2010, Pulse Asia was accused of having close ties to political leaders in the Philippines.
Duterte, who once said he'd be "happy to slaughter" 3 million drug addicts, has been repeatedly condemned over alleged human rights abuses.
Earlier this year, the UN-backed International Narcotics Control Board (INCB) hit out at Duterte's government for extrajudicial killings, purportedly carried out by the country's police force.
In the annual report, released in March, the INCB called on the Philippines government to denounce "extrajudicial actions against individuals suspected of involvement in the illicit drug trade or of drug abuse".
Amnesty International has also described Duterte's campaign against drugs as a "murderous war on the poor." Duterte's government has denied the allegations.
"The police, who are supposed to uphold the rule of law, have come to resemble a criminal enterprise," the human rights organization said in a statement.
"They avoid making arrests in favor of shooting suspects dead in cold blood. They manipulate police reports to make it seem the victim was resisting. Few leaders have so brazenly taken pride in their assaults on human dignity. And yet, there have been no consequences for such behavior," Amnesty International added.
You can share this story on social media: