'Big risk to American bases': Iran's Revolutionary Guards warn US over possible terrorist label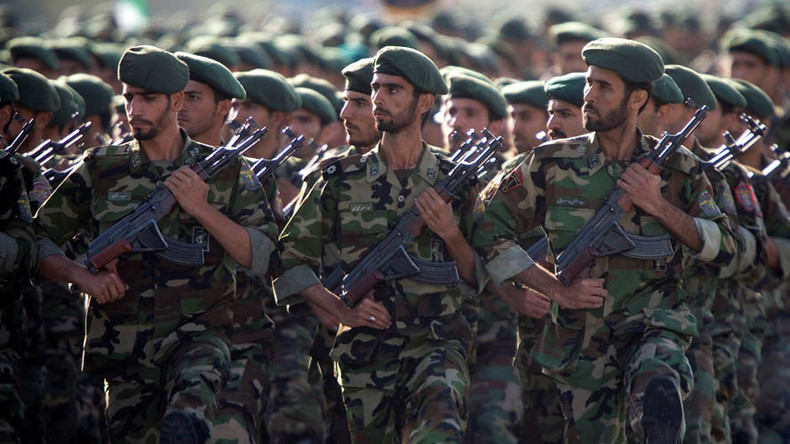 A senior commander for Iran's Revolutionary Guards has warned the US against designating the group as a terrorist organization or applying new sanctions on Tehran, stating that such moves could prove disastrous for American forces in the region.
"Counting the Revolutionary Guards the same as terrorist groups and applying similar sanctions to the Revolutionary Guards is a big risk for America and its bases and forces deployed in the region," Armed Forces Chief of Staff Major General Mohammad Baqeri said on Monday, according to Sepah News, an official news site of the Guards.
Baqeri did not elaborate on any potential consequences that could be faced by the US or its military.
The senior commander's comments come after reports in February that the Trump administration was considering a proposal that could lead to the Revolutionary Guards being designated as a terrorist organization.
It also comes after the US Senate voted in mid-June for new sanctions on Iran over its ballistic missile program. The legislation must pass the House of Representatives and be signed by President Donald Trump in order to become law.
Baqeri said on Monday that Iran's missile program is purely defensive and entirely non-negotiable.
President Trump put Tehran "on notice" in February after it conducted a missile test.
Iran has been formally PUT ON NOTICE for firing a ballistic missile.Should have been thankful for the terrible deal the U.S. made with them!

— Donald J. Trump (@realDonaldTrump) February 2, 2017
Baqeri also criticized remarks made by US Defense Secretary James Mattis, in which he said that regime change in Iran would be necessary before the US could normalize relations.
"American officials should speak a little more wisely, thoughtfully and maturely about other countries, particularly a powerful country like Iran which has stood against all plots with strength and pride," he said.
Tensions between Washington and Tehran have worsened since Trump took office in January.
The US president has repeatedly slammed a historic nuclear agreement made between Iran and six world powers under the Obama administration, calling it the "worst deal ever negotiated."
Under the terms of the deal, Iran agreed to reduce the number of its uranium enrichment centrifuges by two-thirds, cap its enrichment below the level needed for weapons-grade material, reduce its enriched uranium stockpile by 98 percent from around 10,000kg for 15 years, and allow international inspections. This was done in exchange for lifting international sanctions on Iran.
The relationship between Washington and Tehran once again worsened after Trump's travel ban, which affects people from six Muslim-majority countries, including Iran.
Tehran responded to a recent US Supreme Court order to reinstate elements of Trump's controversial ban last month, with Iranian Foreign Ministry spokesman Bahram Ghasemi calling the ruling "an indication of the decision of the leaders of that country (US) to discriminate against Muslims."