Thousands flock to 'largest' neo-Nazi rock festival in Germany, outnumber host city's population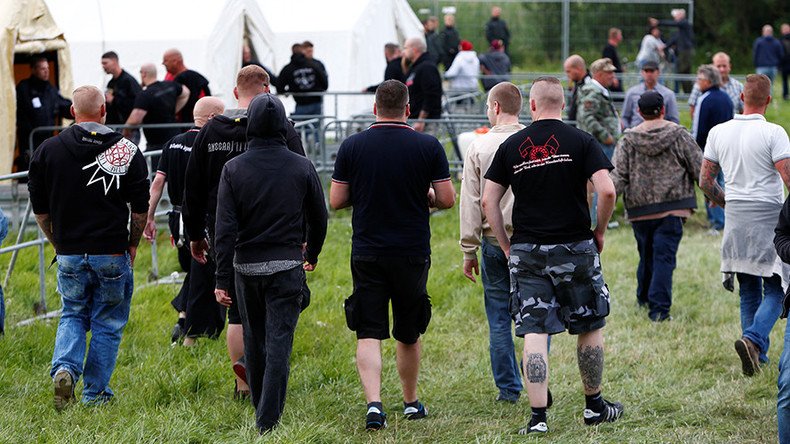 The tiny German town of Themar saw 6,000 people flock to what is said to be the country's largest neo-Nazi rock festival: "Rock against Foreign Domination." The far-right concertgoers vastly outnumbered the town's population of 3,000 people.
The event, 'Rock gegen Ueberfremdung' (Rock against Foreign Domination), took place on Saturday in the small, sleepy town of Themar in eastern Germany. According to various German media, the festival was the largest event of its kind.
READ MORE: 450+ far-right extremists at large in Germany, 'established Nazi underground' feared
The small community of just 3,000 people had to accommodate large crowds of neo-Nazis, effectively twice the size of its own population.
Around 6,000 people attended the event on Saturday, according to Thuringia police, which deployed over 1,000 officers amid security concerns.
The revelers were kept to a small piece of land, as authorities cordoned off the concert venue with metal barriers. To enter the concert grounds, visitors had to pass security checkpoints installed by police.
Though the far-right concert was largely peaceful, more than 20 incidents were reported, including verbal insults, property damage, and drug abuse, according to MDR broadcaster. In two cases, police intervened to prevent "the use of anti-constitutional symbols," possibly referring to Nazi symbols.
Images posted online showed visitors wearing T-shirts making acronymic reference to the phrases 'I love Hitler,' 'I love National Socialism,' and 'Hakenkreuz' (swastika).
Ahead of the event, people in Themar expressed their discontent over the concert, displaying banners reading: "All these Nazis are insane, they must have potato brains" and "Your voice against Nazis."

On Saturday, around 2,000 people were expected to attend an anti-Nazi rally, though only a few hundred showed up, according to German media.
Local authorities said they were not able to prevent the festival from taking place, as it was not illegal under German law.
"The bad thing is that the town authorities could do nothing against this concert," Themar Mayor Hubert Boese told Spiegel.
"The rule of law stipulates that these people can easily set up such concerts under the guise of the right to assembly," he said.

You can share this story on social media: