38, mostly children, injured as tour bus overturns in northern Turkey (PHOTOS)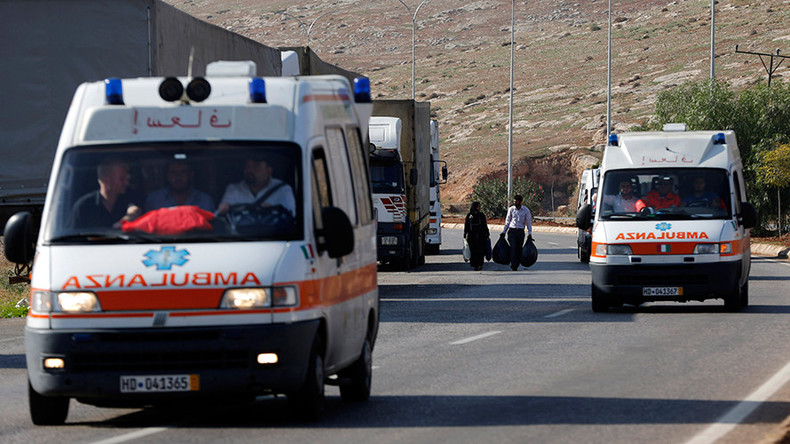 Dozens of passengers, most of them children from Georgia, were injured after a Bulgaria-bound tour bus veered off the road in northern Turkey, the state-run news agency and local media report.
The bus, which was carrying around 38 passengers – including members of a Georgian children's dance band – to Bulgaria, crashed into a light pole before veering off the read in the northern Turkish region of Giresun, according to Hurriyet.
Authorities scrambled ambulances and fire brigades from Giresun and the neighboring province of Trabzon to provide first aid to the injured.
One person stranded inside the vehicle was rescued by the emergency services. Those injured in the incident were taken to nearest hospitals in Giresun and Trabzon.
Other details of the road accident are not immediately available at the moment. Authorities say they will look into the cause of the crash.
Meanwhile, photos apparently showing the overturned vehicle, lying in the middle of the road, have emerged online.
Major incidents involving tour buses have taken place in other parts of Turkey over the past months.
READ MORE: Three dead in Sweden bus crash with dozens of school children on board (VIDEO)
In May, at least 23 people died after a bus carrying women and children plunged off a cliff near the Turkish resort town of Marmaris.
Another 11 passengers of the same bus were injured when the driver lost control of the vehicle and rammed it into a crash barrier. The vehicle eventually landed on another section of the road below after it pierced the crash barrier, Reuters reported.
No foreign tourists were among the passengers, according to local media.