Three dead in Sweden bus crash with dozens of school children on board (VIDEO)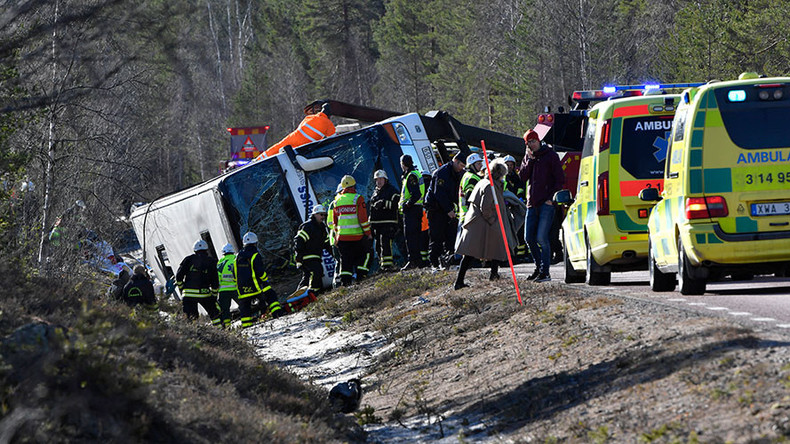 At least three people were killed and dozens injured after a bus carrying 52 schoolchildren overturned in Sweden, local media reports, citing officials.
Seven people were seriously injured in the crash, 20 suffered moderate injuries, and 31 slight injuries, Dagens Nyheter reports, citing Östersund Hospital representative Lisbeth Gibson.
Police say they are not sure what caused the crash.
"We know they drove off the road. We don't know much more than that at this point," police spokeswoman Marie Andersson said, as quoted by Reuters.
The bus went into a ditch on a straight, clear road, emergency services told local media.
A technical malfunction was highly unlikely, the bus company said, adding that the driver contacted the traffic dispatcher on schedule and was in good health. The driver himself sustained minor injuries, but was deeply shocked and unable to shed light on the tragedy, the bus company's spokesman added.
The 52 schoolchildren and seven adults, including the driver, were on a trip to a ski resort when the accident occurred.
Swedish Prime Minister Stefan Löfven sent his condolences to the victims of the accident and their families.
"It leaves me and the whole country in mourning," Swedish news agency TT quoted the prime minister as saying.
The crash apparently occurred early in the morning, around 7am local time near the town of Sveg in northern Sweden. The schoolchildren were on the way to a ski resort, AP reports.