New US base in S. Korea still within striking distance, Pyongyang warns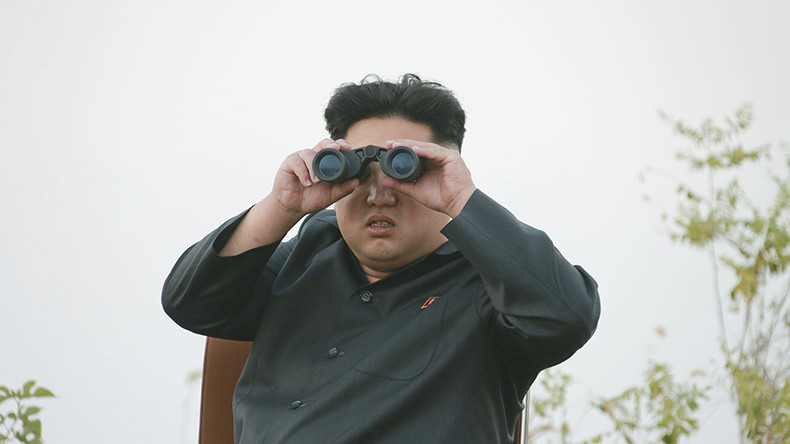 North Korea has warned that US troops stationed at a new base in South Korea are still within striking range, adding that American forces will face a "miserable end" if they continue their "reckless military confrontation."
The North Korean military stated that even though the 8th US Army Command on Tuesday moved to a new base in Pyeongtaek, some 70 kilometers (43 miles) south of Seoul, the North can still successfully target the facility.
Read more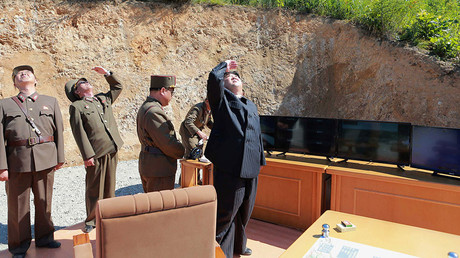 "The larger the US military base is, the more effectively our military hits targets," a North Korean military spokesman said, Yonhap news agency reported, citing the state-run Korean Central News Agency (KCNA).
"If [the leadership] issues an order, our military will destroy the US imperialists with salvos of firings," the spokesman said. "If the US sticks to reckless military confrontation despite our warning, it cannot avoid a miserable end."
The 8th US Army Command made the move to its new base at Camp Humphreys on Tuesday, after more than a decade of planning. The $10.7 billion facility is set to become the largest continuous and most populated overseas installation, according to Stars and Stripes.
Around 80 percent of the construction is complete, and the rest is expected to be finished in the next 12 to 18 months, 8th Army Commander Lt. Gen. Thomas Vandal said, as cited by Stars and Stripes. Remaining units will be transferred once the facility has been completed.
Funding and labor for the base, which will eventually replace Yongsan as the main US military base in South Korea, has been mostly provided by Seoul.
The 8th Army Command is the commanding formation of all American Army Forces in South Korea. In total, the US maintains around 28,500 service members in the East Asian country.
Friday's threat by North Korea comes amid increased tensions between Washington and Pyongyang, with US President Donald Trump repeatedly vowing to put an end to North Korea's nuclear and ballistic missile programs.
Trump reiterated that threat earlier this month, after Pyongyang launched a ballistic missile test as a "gift" for the "American bastards" on US Independence Day, July 4.
Read more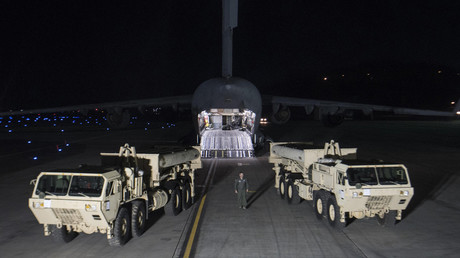 "It's a shame they're behaving this way – they're behaving in a very, very dangerous manner and something will have to be done about it," President Trump said in a news conference following the North Korean launch.
Pyongyang claimed the July 4 launch was particularly significant because it represented the first launch of a North Korean intercontinental ballistic missile (ICBM). However, South Korean intelligence services have since stated that the North is unlikely to have the technology to build such missiles, or the facilities to test them.
Pyongyang has ignored all calls to cease missile tests and de-nuclearize and has continued to test the patience of its Asian neighbors, saying such programs are necessary to counter US aggression.
The US and South Korea agreed to deploy the Terminal High Altitude Area Defense (THAAD) missile defense system last year, in response to Pyongyang's development of ballistic missiles and nuclear weapons. THAAD is designed to intercept short, medium and intermediate-range ballistic missiles during their terminal flight phase.
The previous South Korean conservative government ratified the THAAD deal, while facing protests from people who were scared of becoming a target instead of being protected, as well as from environmentalists claiming the systems might harm natural habitats.
READ MORE: Moscow promotes joint Russia-China plan instead of US attempts to 'strangle' N. Korea at UNSC
Russia and China had called earlier this month for an alternative solution of the standoff to prevent a regional arms race and potential military confrontation, providing their own roadmap. The draft plan is based on "double freezing," when Pyongyang halts its missile and nuclear programs, while South Korea and the US cancel joint large-scale military exercises.
The plan, however, was met with reluctance in Washington, which doubted Moscow's and Beijing's ability to influence North Korea, and refused to cancel its military drills.