Paralyzed man jailed for gunpoint robbery of ex-special service agent in Russia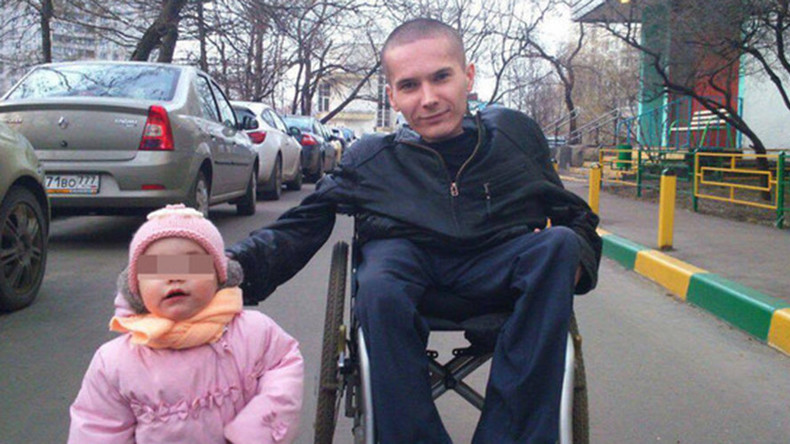 A paralyzed man who suffers from spinal muscular atrophy and weighs just 18kg (40lbs) has been jailed for the armed robbery of a former special forces soldier. The man is a wheelchair user and says he won't survive in prison.
Anton Mamayev, 28, was transported to the Matrosskaya Tishina detention facility in Moscow on June 30. He suffers from spinal muscular atrophy, a rare progressive genetic disease which affects the part of the nervous system that controls voluntary muscle movement.
A district court in the Russian capital found Mamayev guilty of armed robbery and sentenced him to four years and six months in prison. Mamayev is said to have threatened to shoot his accuser – who has not been named – and leave him to die in the woods.
Mamayev reportedly bought a scooter from the plaintiff for 160,000 rubles ($2,600), which he was then planning to resell. Later, however, the victim came to police and claimed that Mamayev had threatened him at gunpoint and stole the scooter.
The court was told that Mamayev had threatened to shoot the accuser in the legs, put him in a car trunk and drive him to the forest, as well as "cripple [him], cut off his ears, put out his eyes and shoot him dead."
Investigators, however, were unable to discover the gun and the knife supposedly used in the crime.
The court delivered its verdict after examining plaintiff and witness testimonies, investigative documents and CCTV footage from the crime scene, Russian news agencies reported, citing the court's spokeswoman, Maria Prokhorycheva.
По версии следствия/суда, инвалид-колясочник Мамаев (вес 18 кг) разбоем завладел мотороллером (потерпевшие- двое мужчин, один - спецназовец) pic.twitter.com/Ye6ooXUwWF

— Boris Fogel (@Kaurus7) July 11, 2017
The plaintiff maintained in court that he had served in the Russian special forces, according to MK.ru daily. Mamayev denied the charges, saying the man had a grudge against him and allegedly owed him money.
Another man, identified by Russian media as Vasily, who received a three-year sentence as an accomplice in the crime had reportedly been hired to take care of Mamayev. Vasily was taking care of Mamayev in his cell.
Mamayev's condition is not included in the list of illnesses which allow the authorities to free a prisoner, according to a decree from the Justice Ministry.
Despite his disability, Mamayev has continued to lead an active life. He has a wife and young daughter and owns a business.
Read more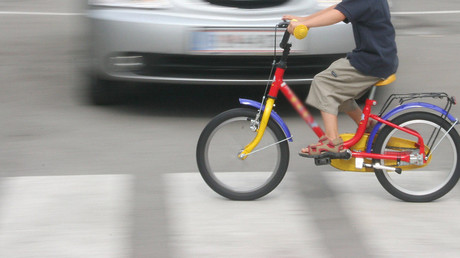 RT contacted Mamayev's lawyer on Monday, who said that his client's health has rapidly declined during the 10 days of his detention and that he's "almost at death's door."
"I won't survive here," Mamayev earlier told human rights activists who visited him at Matrosskaya Tishina, MK.ru reported.
The detention facility doesn't have the equipment and nurses to provide the constant care Mamayev requires, as he is unable to operate his own wheelchair, eat or go to the toilet on his own, he says.
He said that he was in excruciating pain at night due to the lack of the required rehabilitation procedures in prison.
The case has caused outrage in Russia after it appeared in the media. Human rights advocates and social media users have refused to believe that a paralyzed man could have committed the crime in question, and doubt his chances of survival behind bars.
Social media users have dubbed Mamayev the "Russian Hawking" in reference to Stephen Hawking , a British theoretical physicist who is suffering from a similar condition called amyotrophic lateral sclerosis and is also a wheelchair user.
"A disabled man attacks ex-Special Forces troop. This is absurd!" "Everything has been perverted," "I don't have any comments," people wrote on Russia's VKontakte (In Contact) social network.
"The guy is not guilty," "Free Mamayev," echoed other people on social media, calling for his immediate release.
A petition on change.org has been launched, calling on the Russian authorities to review the details of the case.
A spokesman for Russia's Prosecutor General's Office said they are studying the case "in detail."
Mikhail Fedotov, chairman of the Presidential Council for Civil Society and Human Rights, has called the case of Mamayev a "terrible situation," adding that he has appealed to the Moscow Prosecutor's Office.
"It's completely incomprehensible why both the investigative authorities and the court – who, apparently, have no eyes or conscience – put this man in jail," Olga Romanova, who heads the Rus' Sidyaschaya charity which helps inmates and their families, told Business FM.
On Tuesday, Russia's commissioner for human rights, Tatyana Moskalkova, confirmed that Mamayev was transferred to a medical facility for examination. She added that she had earlier met Mamayev's father and promised to help the paralyzed man.