'Don't ruin summer': Rome bans alcohol from streets & piazzas
Published time: 10 Jul, 2017 18:01
Edited time: 11 Jul, 2017 08:07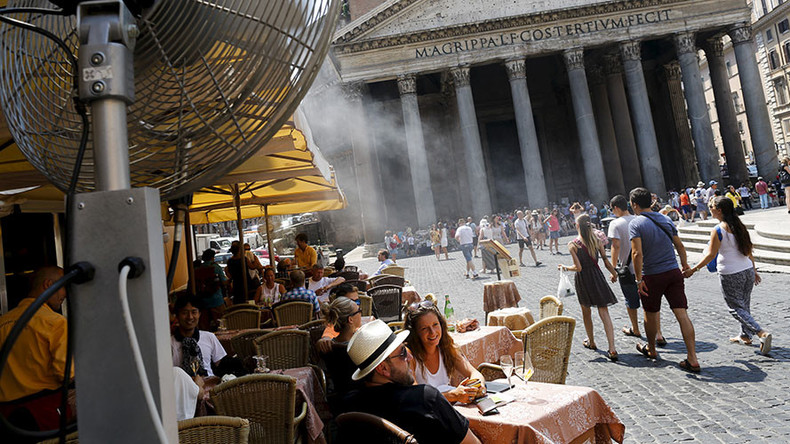 Italy is famous for its wine and piazzas, but the mayor of Rome doesn't want the two to be combined this summer. She has banned alcohol from the city's streets and public squares, saying she doesn't want overindulgence to "ruin" summer evenings.
The ban, which went into effect over the weekend, restricts people from consuming alcoholic beverages in public spaces outdoors from 10pm till 7am. Starting from 10 pm and until midnight it's now prohibited to drink alcohol from glass containers outdoors and starting from midnights any outdoor consumption of alcohol is forbidden regardless of what the container is.
"We don't want the Roman summer evenings to be ruined by episodes linked to excessive consumption of alcohol," Mayor Virginia Raggi in a statement, as quoted by The Local.
The sale of takeaway alcohol is also banned from 10pm onwards, while the sale of any sort of boozy beverage - even from inside a bar or club - is banned from 2am.
Over 500 fines were carried out over the weekend, according to police, with 37 fines issued on Saturday alone.
Drinkers caught violating the ban face fines of €150 (US$170), while business owners caught selling alcohol after the permitted time face a steeper fine of €280 ($318).
Raggi has urged shop owners to print out and display the text of the ban, while still encouraging vacationers and locals to "enjoy themselves with a sense of responsibility."
The ban, which will be in effect until the end of October, applies to all Roman neighborhoods except for the northwestern district of Ottavia.
Many have criticized the city's decision to exempt Ottavia from the rules. Ironically, that is where Raggi lives.
The move is one of several temporary bans in place in Rome this summer, which the city says are aimed at limiting anti-social behavior and problems including littering.
Roman authorities have also laid out strict rules for those congregating near the city's ancient fountains, forbidding them to eat near, climb on, or sit on them. Throwing anything other than small change into the fountains is also banned.
Meanwhile, the mayor of the northern Italian city of Turin has also restricted late-night alcohol sales after a stampede at the showing of a football match killed one person and injured more than 1,500 others.
In an effort to crack down on messy tourists enjoying their lunch on the steps of Florence's churches, the city's mayor last month ordered for such stairs to be hosed down with water because "churches aren't restaurants."
In May, the city of Venice banned new takeaway shops from opening in the city, citing "tourists who eat wherever they are" and leave their litter behind.