'Churches aren't restaurants': Florence hoses down cathedral steps to shoo snacking tourists
Published time: 1 Jun, 2017 12:09
Edited time: 3 Jun, 2017 18:29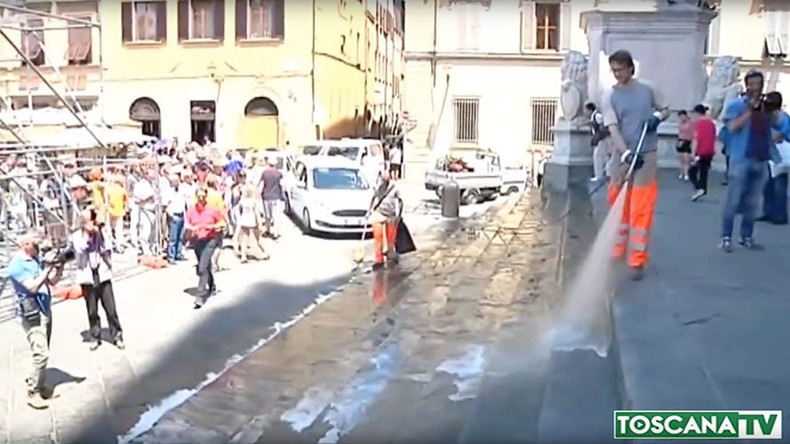 The mayor of the Italian city of Florence has found a creative way to stop tourists from snacking on the steps of the city's cathedrals, ordering for the stairs to be hosed down with water because "churches aren't restaurants."
Mayor Dario Nardella announced the plan on Wednesday morning.
"From today, we'll be experimenting with a very simple measure: pouring water over the church steps to clean the spaces, and hopefully discourage people from eating, drinking and making a mess there," he told reporters, as quoted by the Local.
"If tourists want to sit there, they'll get wet," he said. "Florence is full of cafes with outdoor seating, tables, and benches. The churches aren't restaurants; they are religious and cultural sites."
The first hosing took place at lunchtime on Wednesday, a prime time for tourists to sit on the steps of various cathedrals to enjoy a slice of pizza or a gelato in the sunshine.
The areas by the Basilica of Santa Croce and Santo Spirito Church were the first to be sprayed down.
However, due to the hot summer weather, the steps dried out after about 10 minutes and tourists attempted to sit back down before being stopped by police, ANSA news agency reported.
City authorities will now evaluate whether other areas, including nearby pavements, should also receive the hose-down treatment, according to Nardella.
Responding to the move, some local residents complained that it would deter tourists from Florence. This prompted Nardella to clarify that the city would not be using "water cannons" on tourists, but would rather be strategically cleaning church steps during lunchtime.
He said the city is not against tourists, but is certainly against "those who do not respect Florence."
Nardella said the city would not be implementing fines for those who eat in historic areas, as Rome has done for those trying to snack on its recently-restored Spanish Steps.
"We are using a kinder measure, but one we believe is just as effective," he said.
Florence and Rome aren't the only Italian cities to enforce strict rules when it comes to tourists and food. Earlier this month, Venice banned any new takeaway shops from opening in the city, in order to preserve its "decorum and traditions."
"There are tourists who eat wherever they are, and there's a general sense of a lack of care for the city. For some time, there have been photos circulating of packaging and food waste left along the streets," Councilor Francesca Da Villa, who proposed the measures, told the Local.