Kremlin denies knowledge of meeting between Russian lawyer & Trump Jr.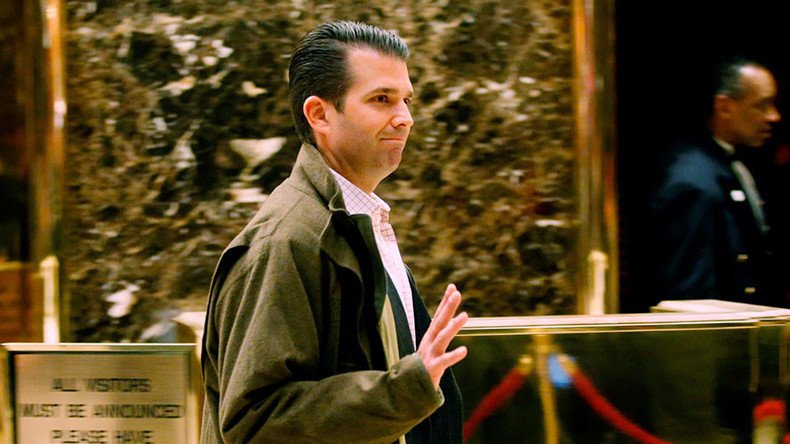 The Kremlin does not know Russian lawyer Natalya Veselnitskaya and was not aware of her reported meeting with US President Donald Trump's eldest son, Donald Trump Jr., which he said occurred during the 2016 election campaign.
"No, we don't know who [Natalya Veselnitskaya] is, and obviously we can't track the meetings of all Russian lawyers at home or abroad," Kremlin spokesman Dmitry Peskov said on Monday.
The New York Times was the first to publish reports that Donald Trump Jr., together with Trump's son-in-law, Jared Kushner, and then campaign chairman Paul J. Manafort met with Veselnitskaya on June 9, 2016.
Trump's team agreed to get together with the Russian legal expert after being promised damaging information about Democratic presidential candidate Hillary Clinton.
Trump Jr. said on Saturday that the meeting with Veselnitskaya took place at Trump Tower in New York, saying that the adoption of Russian children in the US was also discussed during it.
However, on Sunday he added that it took place at the request of an acquaintance from the 2013 Miss Universe pageant, which was staged in Russia by his father.
"After pleasantries were exchanged the woman stated that she had information that individuals connected to Russia were funding the Democratic National Committee and supporting Mrs. Clinton," he said.
"Her statements were vague, ambiguous and made no sense. No details or supporting information was provided or even offered. It quickly became clear that she had no meaningful information."
Obviously I'm the first person on a campaign to ever take a meeting to hear info about an opponent... went nowhere but had to listen. https://t.co/ccUjL1KDEa

— Donald Trump Jr. (@DonaldJTrumpJr) 10 июля 2017 г.
The dialogue then switched to the adoption program which was shut down by Moscow after several Russian children were killed by their American foster parents, and following the US adoption of the so-called Magnitsky Act, Trump Jr. said.
"It became clear to me that this was the true agenda all along and that the claims of potentially helpful information were a pretext for the meeting," he added.
No inconsistency in statements, meeting ended up being primarily about adoptions. In response to further Q's I simply provided more details. https://t.co/FdT1D4hfhz

— Donald Trump Jr. (@DonaldJTrumpJr) 10 июля 2017 г.
The US media said "it is unclear whether the Russian lawyer… actually produced the promised compromising information about Mrs. Clinton."
A spokesman for Donald Trump's legal team, Mark Corallo, said that the now US president wasn't present at the meeting with Veselnitskaya and was unaware that such talks took place.
Trump's campaign statements on the need for better relations with Moscow led to a wave of accusations that he and his team secretly colluded with the Russian authorities to win the US presidential election last year.
READ MORE: CNN's Van Jones calls Russia 'nothing burger' video 'edited, right-wing propaganda'
The claims, which have not been backed up with any convincing proof, have been repeatedly denied by both the Trump team and Moscow. The US president's administration is currently under a congressional investigation over alleged collusion with Russia.
You can share this story on social media: