Putin-Trump cybersecurity cooperation to take place, but will take time – Russia G20 sherpa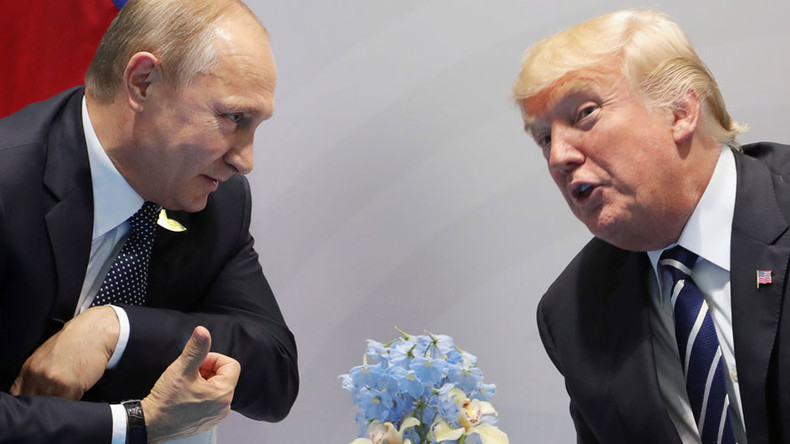 Russia-US cooperation on cybersecurity will take place in the future, but it will probably take some time to set up the framework, a Russian sherpa at the G20 summit said. She added that President Putin had proposed the idea of a joint cybersecurity unit.
"Cybersecurity remains a key issue in US-Russian relations, as far as I know, [the presidents] discussed this issue for at least 40 minutes at the meeting [on the sidelines of G20]," Svetlana Lukash, a Russian G20 sherpa, or representative of the Russian president at the summit, said.
Lukash was referring to Trump's recent comments, saying that the fact that he discussed an impenetrable cybersecurity unit with Putin during their first-ever meeting "doesn't mean I think it can happen."
The fact that President Putin and I discussed a Cyber Security unit doesn't mean I think it can happen. It can't-but a ceasefire can,& did!

— Donald J. Trump (@realDonaldTrump) July 10, 2017
"President Putin made a suggestion to create a working group [on cybersecurity], this does not mean that it must start work tomorrow," Lukash said.
READ MORE: Trump says 'it's time to move forward in working constructively with Russia'
According to the Russian official, the key point about these talks was that "the US is ready to consider cooperation in this area."
"We shall see later, maybe it will be a working group, maybe it will be an interaction within UN. Anyway, our countries need to discuss these issue, this is exactly what the presidents agreed upon," Lukash added.
"Maybe now, at this stage, President Trump is not ready for such a concrete initiative.
"But this does not mean that there will be no cooperation between the two countries in this area, in any form convenient for both sides," Lukash said.
Trump's comments on Twitter would have no effect on the level of trust between Russian President Vladimir Putin and his US counterpart, Kremlin spokesman Dmitry Peskov said.
"Why should it affect trust? It can't affect it," Peskov said when asked about the US president's tweet.
He confirmed that "there really was talk about the possibility of putting together such a [cybersecurity] group," but added that "only time will tell if it'll be created or not."
"Besides, you know that the [Russian] president provided Trump with all the necessary assurances and explanations that any claims of possible involvement of some Russian agencies in cyberattacks during the electoral campaign in the US are pure fiction and don't correspond to reality. And in this context it was mentioned that the best possible way of tackling cyberterrorism is through cooperation [between Russia and the US]," Peskov said, as cited by RIA Novosti.
"Nobody made any promises… Only readiness to work in this direction was stated," he added.
The Putin-Trump discussion on cybersecurity has been actively discussed in the media since the leaders first met in person on the sidelines of the G20 summit in Hamburg.
On Saturday, Putin confirmed that he and Trump had shared their views on the issue, saying both had agreed to "create a working group and work together on how to jointly monitor security in cyberspace."
Trump tweeted on Sunday that he and Putin had discussed forming an impenetrable cybersecurity unit to prevent election hacking. However, later he took a step back from his comments after a backlash from Republican senators, who dubbed the plan "close to the dumbest idea."