US, Russia-brokered ceasefire will be 'fruitful' if expanded to whole of Syria – Iran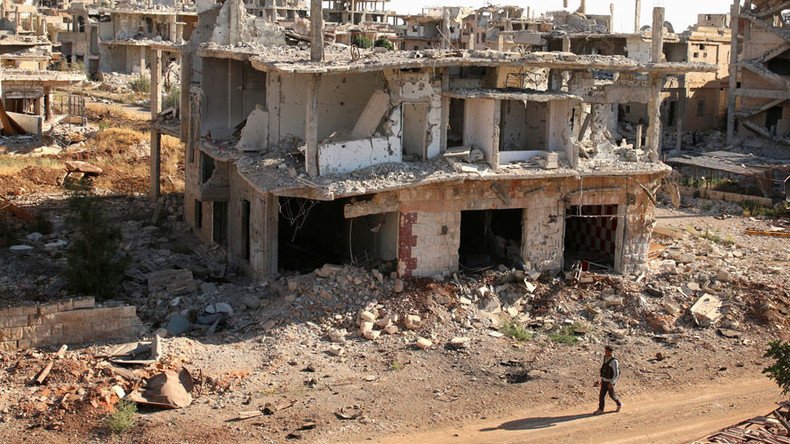 The ceasefire in southwest Syria agreed by the US, Russia and Jordan should be expanded to the entire country, according to Iran's Foreign Ministry. Meanwhile, Israel also expressed its support for a "genuine ceasefire."
"The [ceasefire] agreement can be fruitful if it is expanded to all of Syria and includes all the area that we discussed in Astana talks for de-escalating the tension," Iranian Foreign Ministry spokesman Bahram Qasemi said on Monday, as quoted by Tasnim news agency.
"Iran is seeking Syria's sovereignty and security so a ceasefire cannot be limited to a certain location...no agreement would be successful without taking the realities on the ground into account," Qasemi added.
The comments come just three days after the US, Russia and Jordan announced a ceasefire and "de-escalation agreement" for southwest Syria, beginning on Sunday.
The Friday announcement by the three countries came after a meeting between US President Donald Trump and Russian President Vladimir Putin at the G20 summit in Hamburg.
Meanwhile, the prime minister of Israel, Iran's arch-rival, has also said that Tel Aviv will welcome a ceasefire in Syria, so long as it does not enable an established Iranian military presence in the country.
"Israel will welcome a genuine ceasefire in Syria but this ceasefire must not enable the establishment of a military presence by Iran and its proxies in Syria in general and in southern Syria in particular," Israeli Prime Minister Benjamin Netanyahu said during a weekly cabinet meeting on Sunday, as quoted by Arutz Sheva.
Netanyahu went on to state that he "had deep discussions about this last week with US Secretary of State Tillerson and with Russian President Vladimir Putin. Both told me that they understand Israel's position and will take our demands into account."
He added that Israel will "continue to monitor developments beyond our borders."
Israel will also continue to "prevent the strengthening of Hezbollah via Syria, with emphasis on the acquisition of precision weapons, prevent Hezbollah – or Iranian forces – from establishing a ground presence along our border, and prevent the establishment of an Iranian military presence in Syria as a whole," Netanyahu said.
The ceasefire, which went into effect at noon Damascus time on Sunday, applies to Syrian government forces and rebel groups in the provinces of Daraa, Quneitra and Suwayda.
Putin has called the agreement "a breakthrough, to a certain extent," stressing that the deal was made possible by Washington's "more pragmatic stance" on working with Russia.
The deal has also been praised by the United Nations, with the UN's deputy special envoy for Syria, Ramzy Ezzeldin Ramzy, calling it a "step in the right direction."
"All of this leads to supporting the political process," he added.
Checkpoints and observation posts along the demarcation lines are expected to provide free movement for unarmed civilians, as well as humanitarian access to war-ravaged areas.
You can share this story on social media: