Trump 'knowledgeable' & 'skillful negotiator' says Putin's spokesman after 'win-win' G20 talks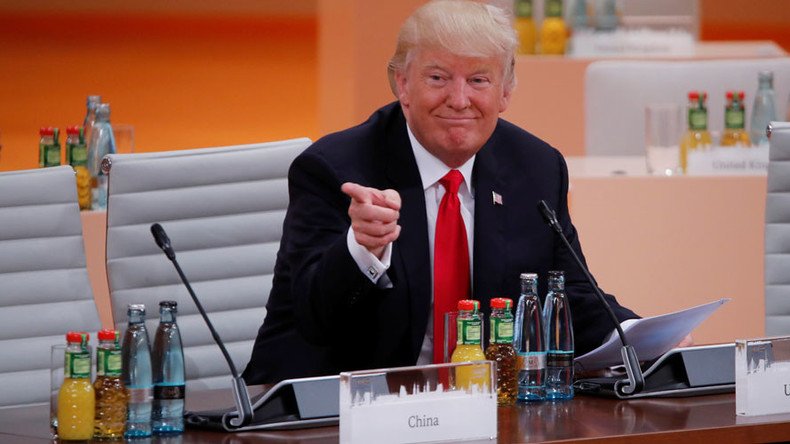 Vladimir Putin's press secretary has dismissed claims of Donald Trump's incompetence as "delusional trash," and says the Russian president had a "pleasant" meeting with his US counterpart at the G20 summit in Hamburg.
READ MORE: Trump says 'it's time to move forward in working constructively with Russia'
"I can say with certainty that Putin was pleased after the meeting. And while I don't personally know Donald Trump, my impression was that he was satisfied as well," said Dmitry Peskov, who pointed out that he wasn't personally present at the two-hour talks, but was later fully briefed by the Russian leader.
Putin's spokesman also launched a broadside at Trump's portrayal in the "hysterical" mainstream media.
"Accusations that Trump is somewhat incompetent or that he is a novice, can be classified as delusional trash," Peskov told the Russia 1 news channel. "Trump is not some simpleton. He has expert knowledge, he is a very determined negotiator and skillful at using his knowledge to put his position across."
Peskov said it was "absurd" to discuss who "won" the talks in Germany, where Russia and the US agreed to a ceasefire in three zones in Syria. Putin and Trump also discussed Ukraine, cybercrime, and, of course, allegations of Russia's meddling in last year's US presidential election.
"We can now confidently declare that this was a win-win encounter," said Peskov.
Peskov, who has been Putin's spokesperson since 2000, added that he believes a "certain affection" had developed between the Russian leader and Trump's wife, Melania, who sat next to the Russian president at the official G20 dinner, revealing that the two discussed several issues on the summit agenda, including gender equality and women's economic participation.
You can share this story on social media: