Water cannon & burned out cars: Violent riots continue in Hamburg after G20 summit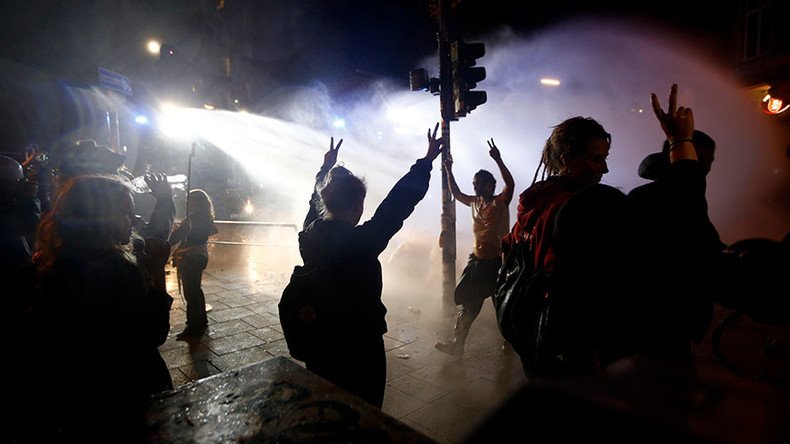 Violent confrontations between police and protesters continued in Hamburg in the early hours of Sunday morning, even after all of the G20 leaders had left. Police said they had to deploy water cannon against demonstrators who were burning vehicles.
The violent riot took place in the Schanzenviertel area of the center of Hamburg, police said on Twitter.
READ MORE: 'No justification': Merkel condemns G20 violence as protesters & police face-off in Hamburg (VIDEOS)
"Unfortunately, more violence, especially in Schanzenviertel. Burning / demolished cars are reported. We deploy water cannon," police said on Twitter.
The rioters, some of whom were masked and reportedly drunk, threw bottles and rocks at police and burned barricades, DW reported from the scene. Officers had to deploy tear gas and pepper spray against the anti-globalists, DW added.
READ MORE: Burnt-out barricades, smashed-up buildings: Hamburg awakes to carnage after night of G20 riots
Police made several arrests and detentions and some officers were injured during the clashes, Die Welt newspaper reported.
READ MORE: Molotov cocktails & iron bars: G20 protests rage on in Hamburg, 200+ police injured
Later, police reported that the situation had relatively calmed.
The anti-globalist demonstrations in Hamburg were organized under the slogan "Welcome to Hell." The city has been engulfed by violent riots so extreme that they even shocked the organizers of a series of mass demonstrations that were staged over several days and nights.
At least 143 people have been detained and 213 policemen injured since the riots erupted on Thursday. Final figures for the number of people arrested and injured during the violent confrontations will be provided at a press conference on Sunday, police said.
Interior Minister Thomas de Maiziere called upon police to crack down on violent demonstrators, saying those who destroy property "have nothing to do with protests or politics."
"They are not protesters; they are criminals," he said.
Foreign Minister Sigmar Gabriel called the protests an "orgy of brutality" in an article he wrote for Bild Am Sonntag newspaper.

"Germany's image amongst the international public has been heavily affected by the events in Hamburg," he said.
Thousands of Hamburg residents took part in a clean-up operation Sunday morning to clear those parts of the city worst affected by the damage.
Residents were pictured brushing away the charred remains of the fires which burned in the city during the three days of protests, and filling garbage bags full of debris.
You can share this story on social media: