'Must keep cool heads': Putin & S. Korea's Moon discuss Pyongyang at G20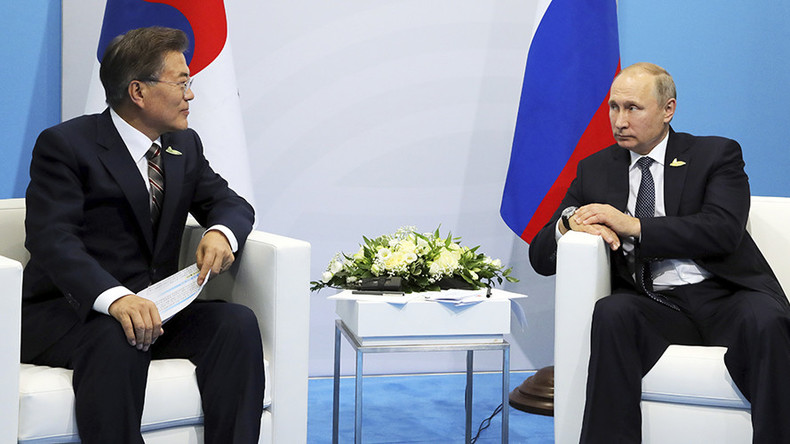 Russian President Vladimir Putin and his South Korean counterpart Moon Jae-in discussed Pyongyang's latest "provocation" and the need to "keep cool heads" to defuse tensions on the Korean peninsula.
"The North Korean missile provocation is a threat not only to the peninsula, but also the entire region," Moon said after talks with Putin on the sidelines of G20 summit in Hamburg Friday.
Putin underlined the importance of adopting a rational approach when dealing with Pyongyang.
"The North Korean nuclear program is a very acute problem," Putin said. "But we must act carefully and pragmatically, and we must keep cool heads."
Moon confirmed Russia could play a significant role in deescalating the Korean crisis, and invited Putin to visit him in South Korea to further "discuss issues" of mutual concern.
READ MORE: 'Phone talks obviously not enough': Putin & Trump meet on sidelines of G20 summit (VIDEO)
"I would also like to invite you to visit us in Korea, as soon as possible," said the South Korean president in response to the invitation to the Eastern Economic Forum in Vladivostok.
"It will be a very good opportunity to discuss all the issues between our countries."
Moon, who took office in May, has advocated for greater dialogue with the North. The former human rights lawyer has even expressed a willingness to travel to his isolated neighbor if it means ending the decades-long standoff.
"I am willing to go anywhere for the peace of the Korean Peninsula," Moon said at his formal oath-taking ceremony.
But despite this more open and flexible approach, the leaders of Japan, South Korea and the US released a joint statement Friday, vowing to collectively apply maximum pressure and to strengthen their military alliances in response to the "major escalation that directly violates multiple United Nation's Security Council resolutions and that clearly demonstrates the growing threat the DPRK poses."
The leaders of the three countries added that they would press for more sanctions to show Pyongyang "there are serious consequences for its destabilizing, provocative, and escalatory actions."
China and Russia has urged patience and pragmatism from all sides, warning against any statements or action that might escalate tensions further.
Instead of trying to "strangle" Pyongyang with additional sanctions which could result in an unpredictable outcome, Moscow and Beijing has proposed a roadmap to deescalate tensions on the peninsula by launching constructive negotiations through a simultaneous halt of Pyongyang's nuclear program and a suspension of US-South Korean military activity.
But despite the joint Russian and Chinese plea, the US and South Korea rushed to flex their muscles, and within two days, conducted two sets of live fire drills on the Korean peninsula.
North Korea claimed this week to have successfully test-launched its Hwasong-14 intercontinental ballistic missile (ICBM) in what leader Kim Jong-un described as a "gift" for the "American bastards".
The move has heightened tensions in an already anxious region, where North Korea's neighbors have long been concerned about the isolated country's nuclear capabilities.
Pyongyang has been under UN sanctions since 2006, when the Security Council prohibited the provision of large-scale arms, nuclear technology and related training to Pyongyang. Despite the political and economic pressure, North Korea defiantly continues to pursue its research and development in the nuclear and ballistic missile spheres.