Sabotage? False fire alarm disrupts Assange's G20 speech (VIDEO)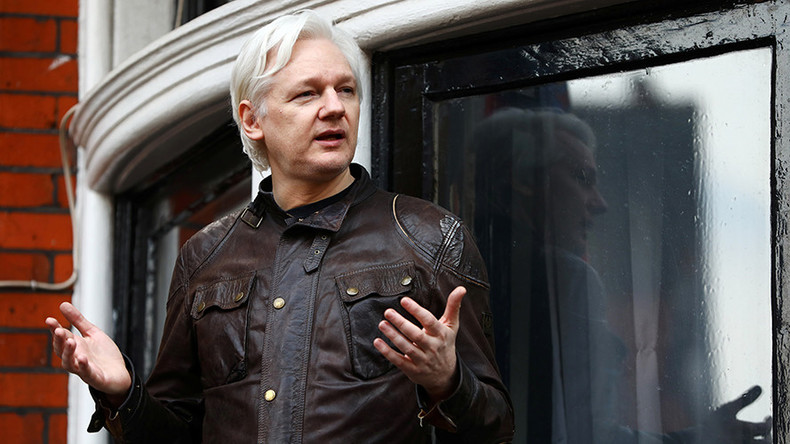 Organizers of a 'constructive disobedience' talk, running parallel to the G20 Summit, say their event was "sabotaged" when the fire alarm at Hamburg's Audimax auditorium sounded minutes before Julian Assange was due to speak.
READ MORE: Water cannon, torched cars: Protests rage in Hamburg for 2nd day as G20 summit kicks off
The WikiLeaks editor had been due to discuss cyber war at the 'anti-establishment' conference Friday evening when attendees were suddenly forced to evacuate the venue.
According to the group that arranged the talk, DiEM25, the alarm was triggered "just as we announced Julian Assange was about to connect via video link."
DiEM25, which aims to "democratize Europe" and end "Brussels bureaucracy," believe the incident was an act of sabotage.
"Someone appears to have manipulated the fire alarm. Everyone had to evacuate," a DiEM25 spokesperson told RT.com.
READ MORE: Putin and Trump shake hands ahead of first face-to-face meeting at G20 (VIDEO)
"The firefighters came, found nothing, but didn't let us back in. We're continuing outside. We hope to still have Julian Assange [speaking] later."
A spokesperson for the Hamburg fire services stated that the incident had been recorded as a "false alarm" after an "automatic fire alarm" at the venue went off.
"There were technical problems with the automatic alarm. No sabotage," the spokesperson said.
With leaders including Russian President Vladimir Putin, US President Donald Trump and German Chancellor Angela Merkel set for two days of round-table discussions, the alternative summit saw former Greek Finance Minister Yanis Varoufakis speak before the alarm incident.
He described how "neo-liberalism took shape" at G20 meetings in the past.
"The Washington consensus was spread throughout the world. It was a time when the US, Japanese, British governments and the European Union were in unison about the need to push down wages, deny trade union rights, expand the reach of multinational corporations and create pure freedom for capital and commodities," Varoufakis said.
He added that the 2008 global financial crisis had since created a new problem and described how world powers were now much more fragmented, giving rise to the "various cockroaches of xenophobic racism."