About 100 gun-owners in France on anti-terrorism watchlist – interior minister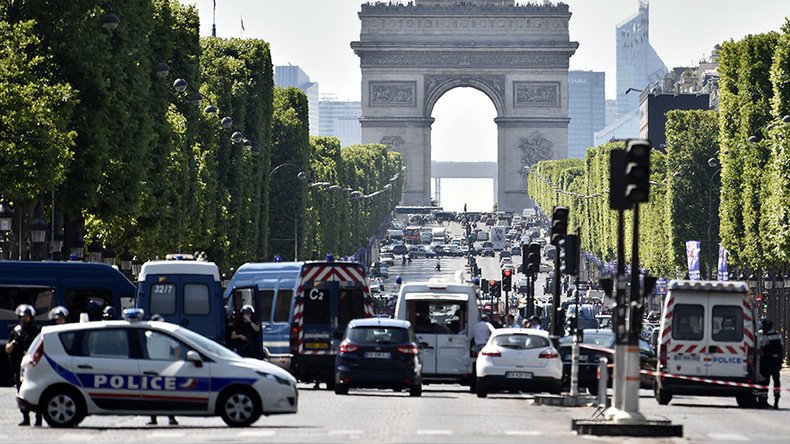 Around 100 people who legally own firearms in France are on anti-terrorism watchlist, Interior Minister Gerard Collomb revealed. The Champs-Elysees attacker was on a terrorist watchlist, yet still had a gun license.
Collomb told the Senate on Wednesday – as part of the review on the new anti-terrorism bill – that "we have identified about a hundred" individuals monitored for extremism who are believed to own firearms.
The minister emphasized that this is a situation that should be fixed, referring to the latest attack, by 31-year-old Adam Djaziri, who rammed a car full of weapons and gas canisters into a police van in central Paris in mid-June. He was the only one to have died in the attack.
"The person who wanted to commit that attack was on file and, at the same time, was the legal owner of firearms. This is a sign of dysfunction."
Djaziri was placed on the radical islamist 'Fiche S' terrorist watch two years ago, but still somehow legally owned the weapons, an unnamed source close to the investigation told AFP.
Collomb concluded that he urged the local authorities and security forces to "take action and deal with these problems," so that France "comes back to a normal state."
The country has been under a state of emergency since November 2015, when 130 people were killed in terrorist attacks. Since then, the state of emergency has been extended five times.
At a joint parliament session on Monday, new French President Emmanuel Macron pledged that he would lift the state of emergency in France by the end of the year.
Just over the past few days, though, France has seen a few firearm attacks: on Monday, one person was killed and six others injured when two assailants on a motorcycle shot at a crowd in Toulouse. Initial reports suggested that the shooting was criminal-related and not linked to terrorism.
In another attack, eight people were injured when two hooded gunmen opened fire near a mosque in Avignon, although local police dismissed terrorist links to the incident.
You can share this story on social media: