Turkey to build its own aircraft carriers – Erdogan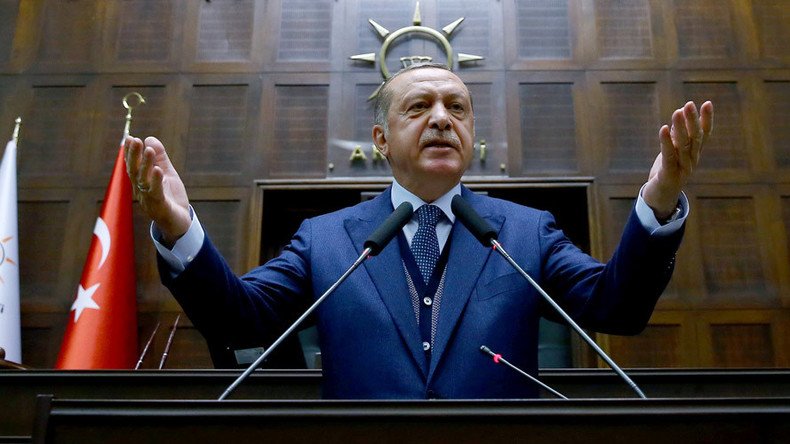 Turkey is "committed" to building its own aircraft carriers the Turkish President has said. Recep Tayyip Erdogan added that Ankara is seeking self-sufficiency in its defense industry and will not allow anyone to block its military initiatives.
"We will build our own aircraft carriers," Erdogan said at the launching ceremony of the new Turkish Kinaliada Corvette at the Istanbul Navy shipyard.
The Kinaliada Corvette has been built locally under Turkey's MILGEM national warship program aimed at building frigates with anti-submarine capabilities based on Turkish domestic technologies. The Kinaliada is the fourth Ada class corvette built under this project as three such corvettes had already been commissioned by the Turkish Navy.
The Kinaliada Corvette will be fully operational by 2019, Turkish media report.
Erdogan emphasized that his country should develop a self-sufficient defense industry, which, he said, is "critical to [Turkey's] security."
"Turkey aims to end its dependency on the foreign defense industry by 2023," he said, adding, that Ankara already prides itself on its ability to build warships, especially submarines.
"The backbone of our plans must be based on national opportunities. If necessary, we must make sacrifices in the way of time and costs."
"If we had not done this for the past 15 years, we would not be able to carry out cross-border operations against terrorist organizations due to the secret embargoes applied to our country," Erdogan said, as cited by the Yeni Safak daily.
"All these developments are an expression of our commitment to the solutions we have developed in the maritime field against the threats in the region of our country," he said.
Turkey has already launched 14 military ship construction projects and ten more would be launched in the coming years, Erdogan announced.
The Turkish leader also warned that his country would not tolerate any attempts to block or impede its military development efforts.
It is not the first time that Erdogan has spoken of Turkey's ambitions to build an aircraft carrier. In June 2016, the Turkish president said his country had "no obstacle" to domestically build a full-fledged aircraft carrier "under the current government."
Erdogan said Turkey would be ready to begin construction of such a warship after its amphibious assault ship, the TCG Anadolu, is completed in 2021.
You can share this story on social media: