Molotov cocktails vs tear gas: Athens police clash with protesters (VIDEO)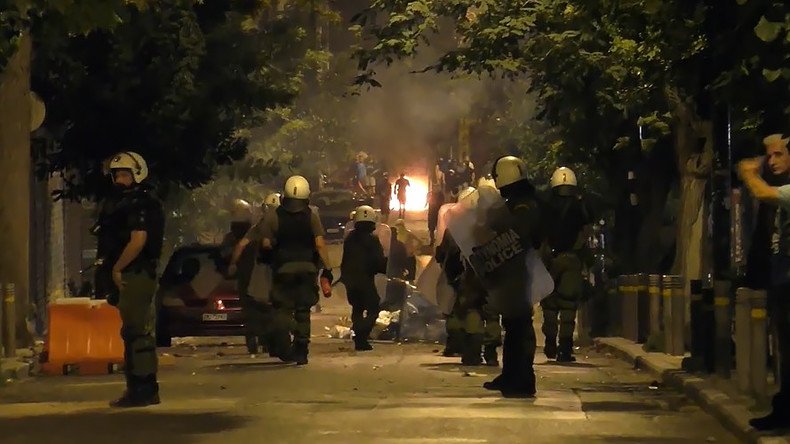 Tear gas was deployed in the Greek capital as protesters threw Molotov cocktails at riot officers. The stand-off took place after the authorities banned rival demonstrations by a police union and anarchists.
The violence erupted Thursday night near the National Technical University of Athens, in the city center, local media and Ruptly news agency reported.
Protesters hurled firecrackers at police, causing heaps of garbage, which has piled up in the streets amid a 10-day trash collectors strike, to go up in flames, Ruptly video shows. At least two police officers were slightly injured in the stand-off, according to the Greek news outlet The TOC.
The riot police were deployed to the area over fears of potential scuffles between activists from the Pan-Hellenic Federation of Police Officers [POASY] and anarchists; both groups wanted to hold demonstrations on Thursday.
The POASY rally was set to take place in the Exarchia neighborhood, long favored by anarchists. The area reportedly turned into a kind of a no-go zone for law enforcement, with only riot police allowed to operate in the area, according to Greek Reporter daily. Exarchia often becomes the scene of violent clashes between anarchists and riot police.
Following the POASY announcement, anarchist groups called for a counter-demonstration against police violence to be staged in the nearby Kolonaki neighborhood at the same time. It was reported that some of the activists intended to go to Exarchia to disrupt the police gathering.
READ MORE: Greek parliament passes austerity cuts as Molotov-throwing protesters clash with police in Athens
To avert a stand-off, the Greek authorities on Wednesday imposed a ban on all protest activity in both neighborhoods
You can share this story on social media: