Erdogan public appearances outside G20 'inappropriate' – German FM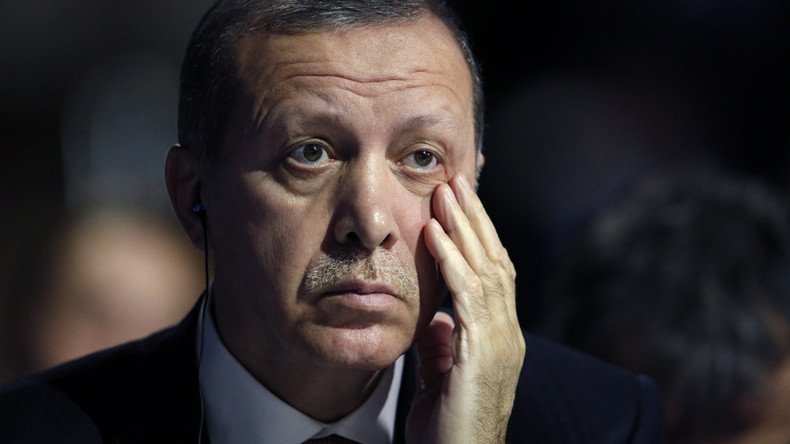 German Foreign Minister Sigmar Gabriel has advised Turkish President Tayyip Erdogan not to hold public events during his trip to G20 summit.
"But I also told them openly that such an appearance was not appropriate given the conflict situation that exists with Turkey, and that it would not fit into the political landscape at this time," Gabriel stated.
Gabriel called any public appearances made by Erdogan outside the G20 summit "inappropriate" due to the toughening tensions between the two NATO members, Reuters reported on Tuesday.
On Wednesday Ankara has officially requested permission for Erdogan to address Germany-based Turkish citizens during his visit, Gabriel told accompanying him journalists during his trip to Russia.
The German authorities anticipate that Erdogan's visit could trigger unrest in Hamburg, which will host the G20 summit on July 7-8.
"We don't have the police forces available to ensure security, given the G20," Gabriel said. He added that Germany is not obliged to allow Erdogan's public appearances and is not willing to allow conflicts from other nations to spill over onto German territory.
"We should tell all non-EU countries - not just Turkey - that we don't allow campaign appearances that serve to import domestic conflicts from other countries to Germany."
While German authorities rejected the requested meeting with Turkish citizens on the sidelines of the G20, Gabriel noted that events could be held inside the Turkish embassy or consulates in Germany.
Ankara slammed Germany for making "unacceptable comments."
"It is regrettable that some politicians in Germany are making unacceptable comments with domestic political calculations," Reuters cited Turkey's foreign ministry spokesman, Huseyin Muftuoglu, as saying.
The spokesman also accused EU officials of double standards, apparently referring to former European Parliament President Martin Schulz, who called the Turkish president and his Russian and American counterparts, Vladimir Putin and Donald Trump, "autocratic rulers."
"The approach of the person who has chaired the European Parliament... once again underlines the true face of the mentality we are facing and their double standards," Muftuoglu said.
On Sunday, Germany asked the Turkish president not to take to the G20 summit the bodyguards who were involved in violence during protests near the Turkish Embassy in Washington earlier this year, Die Welt reported. The warning came as a response to a list of around 50 people expected to accompany Erdogan during his trip to Hamburg.
US police brought charges against a dozen Turkish security officials over violent scuffled with protesters during Erdogan's visit to the US on May 16. The incident triggered a diplomatic row between Washington and Ankara.
In May, Ankara also barred Germany lawmakers from visiting Turkish Incirlik Air Base, where around 270 troops were serving in the campaign against Islamic State (IS, formerly ISIS/ISIL). The German Parliament decided to choose a new site for the troops and approved the transfer of soldiers and equipment from Incirlik to a new site in Jordan on June 21.
You can share this story on social media: