'Duty of civilians to flee': Duterte tells troops not to worry about collateral damage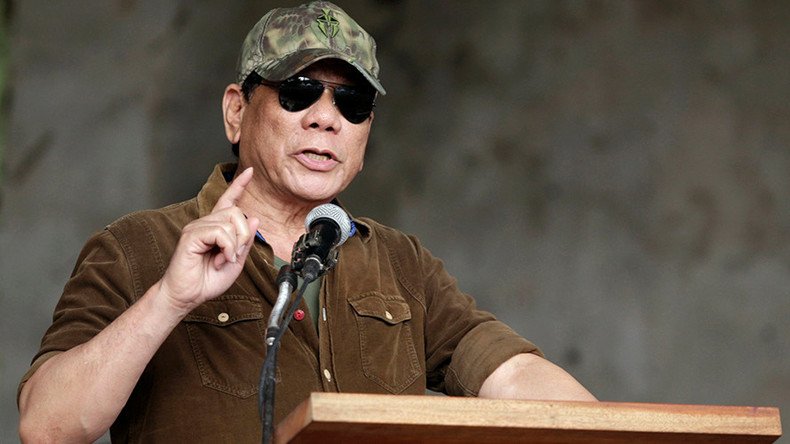 Philippines President Rodrigo Duterte has once again reassured troops fighting an Islamist insurgency in Marawi CIty that he will protect them from legal action, reiterating his desire to retake the city by any means necessary.
In a televised speech, in his brash style, Duterte said that while collateral damage is never intentional, soldiers should "not hesitate to engage just because there are civilians. It is the duty of the civilians to flee or seek cover."
"We will face charges, sometimes massacre, you know a bullet hits through and through, one squeeze of the Armalite [rifle], it bursts out about three, four. Keep on pressing it," Duterte said.
Much the same as his notorious rape joke he made in May, Duterte assured his troops that he would personally keep them away from jail in the event that there were any civilian casualties.
"If you raped three [women], I will be the one to admit that it's me," Duterte said, adding "I'll be with you all the way. If you go down, I go down."
Philippines authorities had previously pledged to bring the siege to an end by Monday June 12, the country's independence day, but as the fighting drags into its sixth week, Duterte seems to be desperate for a resolution, no matter the cost.
"And my orders to you, if he carries a gun, he is not a soldier, he is not a policeman, just kill him. That is my order, because they will kill us," Duterte told the troops, as cited by AP.
The overall death toll has reached over 400 and the military claimed Wednesday the Islamic State-affiliated Maute fighters had begun beheading civilians.
Some 71 Philippines military personnel have been reported killed-in-action (KIA), which Duterte lamented in his closing remarks.
"I really wallow in sorrow, because I'm the one who ordered you to go there and fight, that is the moral burden that I carry all day and all night," he said.
You can share this story on social media: