'Terrorist attack': Hijacked military helicopter strikes Venezuela court, ministry (PHOTOS, VIDEO)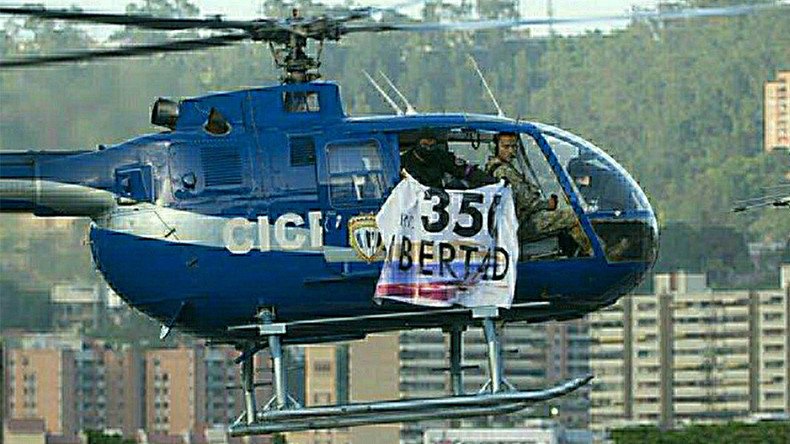 A hijacked military helicopter has attacked Venezuela's Supreme Court and a government ministry with gunfire and grenades. President Nicolas Maduro described the incident as a "terrorist attack."
The helicopter was stolen from a military base in La Carlota by a group led by police pilot Oscar Perez. The vehicle flew over the Venezuelan capital, Caracas, and attacked government institutions on Tuesday. After firing 15 shots at the Interior Ministry from the helicopter, the hijackers flew to the Supreme Court building, where they dropped four grenades of Colombian and Israeli origin, according to Ernesto Villegas, the minister of state for the revolutionary transformation of greater Caracas.
"Sooner rather than later, we are going to capture the helicopter and those behind this armed terrorist attack against the institutions of the country," President Maduro said, as cited by Reuters.
Maduro added that "the entire armed forces" had been activated to secure peace in the country, AFP reported.
There were around 80 people inside the ministry building and judges were holding a meeting in the Supreme Court building at the moment of the attack. No casualties have been reported.
"They could have caused dozens of deaths," Maduro said.
Social media users uploaded various videos appearing to show the helicopter attack. Shooting and explosions are heard in the background, as the helicopter circles over the city.
Some people filmed the helicopter more closely, apparently showing it taking off.
Several pictures show that the helicopter was carrying a banner reading "350 Freedom," apparently referring to an article of the Venezuelan constitution, which states that citizens can "disown any regime" that violates "democratic values, principles and guarantees, or that undermines human rights."
Prior to the attack, a video had been published in an Instagram account, purportedly belonging to Oscar Perez. Perez said he is part of a coalition of military and civilians officials who want to restore order and are demanding the resignation of the government.
Perez was accused of having links with American intelligence, El Nacional newspaper reports, citing Villegas. The minister also claimed the attacker wanted to provoke a government coup.
Venezuela has been hit by protests since April, with demonstrators demanding that a presidential election be held to end Maduro's tenure.
READ MORE: 'Get your dirty hands out of Venezuela' – Maduro to Trump
However, Maduro blames external forces, especially the US, for triggering the unrest. He issued a firm statement to Washington last month, telling President Donald Trump to stop meddling in the country's affairs.
You can share this story on social media: