Japanese airline forces wheelchair user to crawl on board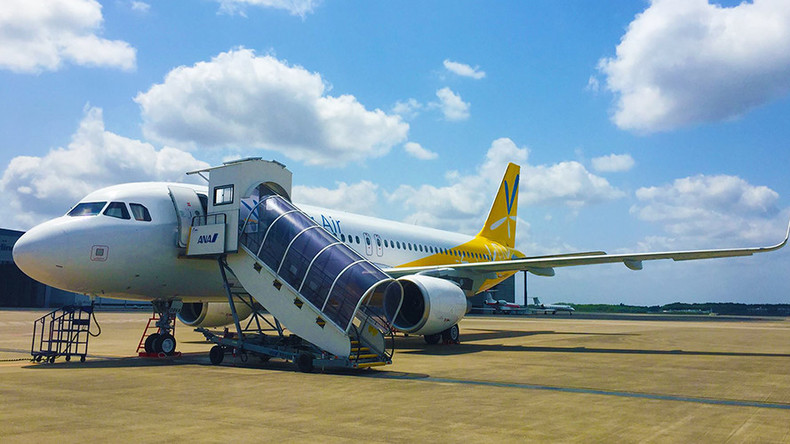 Japanese low-cost carrier Vanilla Air asked a man paralysed from the waist down to climb a ladder to enter the plane, saying safety rules prohibited him from being carried aboard. The incident triggered outrage, prompting the airline to apologize.
Vanilla Air apologized on Wednesday to the 44-year-old man for his humiliating experience last month. Hideto Kijima, who has used a wheelchair since he was 17, was traveling home from the Amami islands to Osaka on May 5 when airline staff at the check-in desk warned him that the company did not have the facilities to help him board the plane, according to NHK.
The airline also said that safety rules barred him from receiving help to board the plane, effectively telling him that "those who cannot walk, cannot fly."
READ MORE: Mother with disabled 2yo denied boarding by low-cost Russian airline, sparking outrage
Kijima had to climb some 17 steps up the ladder to the plane using only his arms, despite the fact that he had been helped by a friend to board the flight on his way to the Amami islands.
The incident has backfired, as angered public took to the airliner's Twitter account, voicing their dismay.
"We're sorry that we caused him that hardship," AFP cited a company spokesman as saying. The representative added that the airline in the past did not allow others to be carried as it was dangerous. Vanilla Air is also said to have introduced lifts for mobility-impaired clients.
"I wondered if the airport employees didn't think that was wrong," said Kijima, who is a keen traveler and has already visited 158 countries. The man regularly shares his experiences on accessibility during his trips in his personal blog.