Former S. Korean President Park plotted to kill North Korean leader Kim Jong-un – report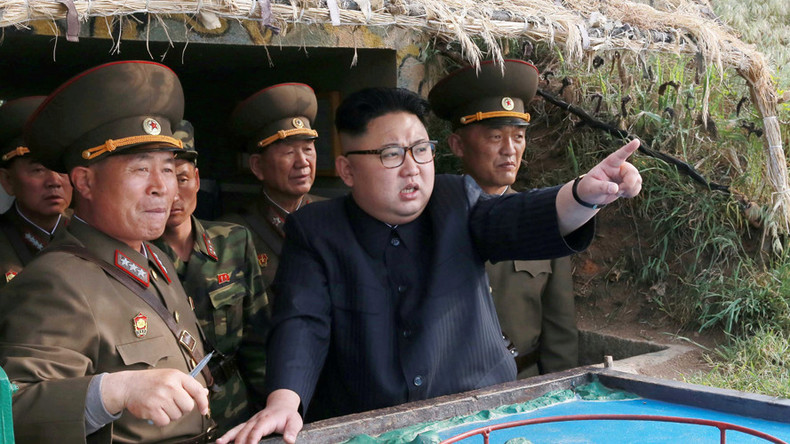 Former South Korean President Park Geun-hye was making plans to assassinate North Korean leader Kim Jong-un, according to Japan's Asahi Shimbun national newspaper.
Ex-president Park, who was impeached due to a corruption scandal, signed a document approving a "leadership change" in North Korea back in 2015, the national daily reported on Monday citing unnamed sources. South Korea's intelligence agencies were to prepare operations to carry out the plan.
The report notes that the plotters considered arranging accidents, with a car accident or the derailment of a train carrying Kim Jong-un on the table. Park's administration also reportedly considered staging a coup in North Korea.
The military activities of South Korea's communist neighbor, including its nuclear arms development programs, apparently motivated the alleged plot, Asahi Shimbun notes. Tension between Seoul and Pyongyang spiked in August of 2015 as the countries exchanged fire after the North fired a projectile at the border city of Yeoncheon.
However, the plans to assassinate the North Korean leader were not picked up by President Moon Jae-in's administration after Park's impeachment, the daily reports.
In May, North Korea accused US and South Korean spy agencies of plotting to kill Kim Jong-un with some "biochemical substances," the country's Ministry of State Security said, as quoted by AFP.
North Korea's Asian neighbors have been gravely concerned about its missile and nuclear tests for a long time. Pyongyang has conducted dozens of missile launches and tested two nuclear bombs since the beginning of 2016, in violation of UN resolutions. The North consistently threatens to carry out these tests when Japanese, South Korean and US fleets are conducting naval drills in the region.
On June 22, North Korea reportedly tested a space rocket engine that can be installed on an intercontinental ballistic missile (ICBM) potentially capable of reaching the US mainland, according to American officials cited by media outlets.
In April, the US deployed its Terminal High Altitude Area Defense (THAAD) anti-missile system in South Korea to protect the country from its northern neighbor. The deployment triggered protests in South Korea, as some citizens see THAAD as giving the North Korea reason to strike. The deployment of the system has been delayed, however, as the newly elected president, who is also a THAAD sceptic, has demanded that an environmental impact probe be conducted, which could take up to a year.
READ MORE: 'THAAD out, Peace in': S. Koreans protest US missile deployment ahead of Trump talks
You can share this story on social media: