Philippine army foils militant plot to attack Cotabato City – report
Published time: 26 Jun, 2017 07:42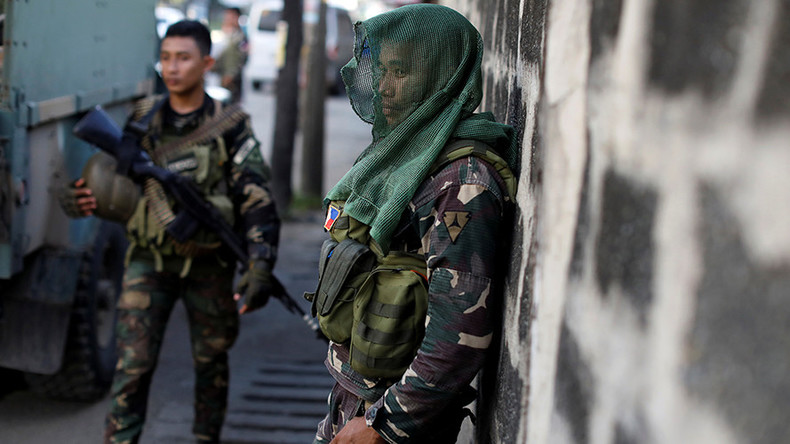 The Philippine army has reportedly foiled a plot by militants to take advantage of the military focusing on its battle in Marawi to launch a similar siege on Cotabato City, the Manila Standard reports, citing an intelligence paper.
The Bangsamoro Islamic Freedom Fighters (BIFF) raided villages on the island of Mindanao, where fighting against Islamic State-aligned militants has entered its fifth week. However, the army prevented BIFF from attacking Cotabato City, which is home to around 300,000 people.
"The BIFF was able to mobilize maybe about 200 men plus, more than 100 men from different private and criminal armed groups, to launch a siege in Cotabato City. But they could not cross military lines so they just terrorized communities in Pigcawayan, North Cotabato," a military commander told the Manila Standard on condition of anonymity.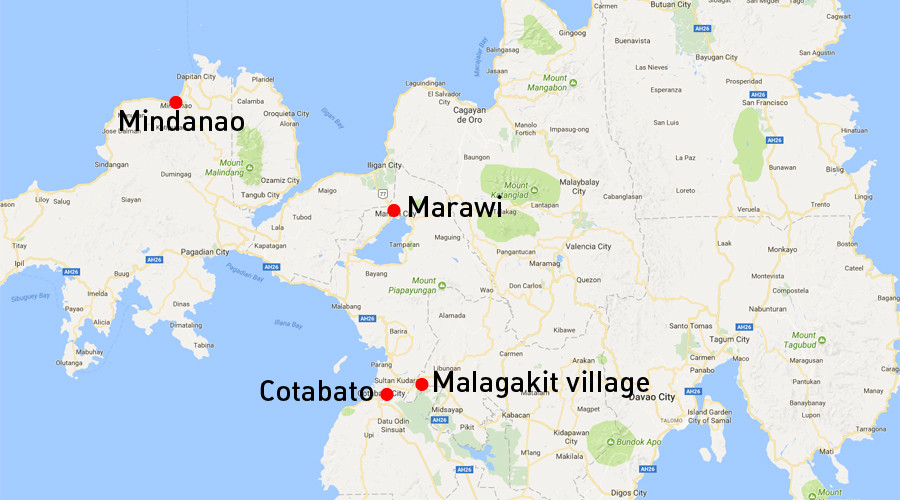 Last Wednesday, some 50 armed militants tried to capture a militia outpost in the village of Malagakit. Though they were pushed back, they managed to take dozens of hostages, including children. The situation was resolved after a day-long confrontation with government troops.
Captain John Arvin Encinas revealed on Sunday that six BIFF fighters, a militiaman, and a farmer were killed in that attack. The militants also desecrated the San Jose Chapel before being repelled.
Villagers from some 400 families displaced by the BIFF attack only managed to return to their communities on Saturday after the army had demined booby traps and secured the perimeter, the Inquirer reported.
Apart from the main Maute terrorist group, which has pledged allegiance to Islamic State (IS, formerly ISIS/ISIL), there are around 20 other foreign and local jihadist cells operating on the island of Mindanao, according to Philippines authorities.
Manila has been battling to expel Maute fighters from the island's Marawi City since declaring a state of emergency on May 23. So far, some 289 terrorists, 69 government troops, and 26 civilians have been killed, the Manila Times reported.
The government considers BIFF to be among "other possible threat groups" endangering parts of Central Mindanao at a time when the main government offensive is focused on fighting the Maute and allied Abu Sayyaf fighters in Marawi.
BIFF reportedly managed to smuggle seven improvised explosive devices (IEA) into Marawi City before it was attacked on May 23. They "were manufactured during the second week of May" from 60mm mortar shells and handheld radios to support the siege, the report said.
The militant group seems to be active in other areas of the country as well.
"The monitored presence of BIFF elements in Davao region suggests that they could have established networks in the area as well as focused their activities on training to enhance their military capabilities," the source told the publication.
The Army has been focusing on preventing "test mission bombings" since a series of blasts were averted in Davao City last February. The report noted a rise in BIFF training and surveillance activities, citing key cities, including Davao, as BIFF's "probable targets."
Meanwhile, the Presidential Office has announced that it has sent a vessel with a landing platform to Cotabato to assist the military operation on the island.
"BRP Davao del Sur will greatly assist in our military operations in quelling the rebellion in Marawi. Apart from delivering military supplies and relief goods, the vessel will be utilized as a back-up floating medical facility to treat the wounded," the statement reads.