Israeli warplanes target 2 Syrian tanks over spillover cross-border fire (VIDEO)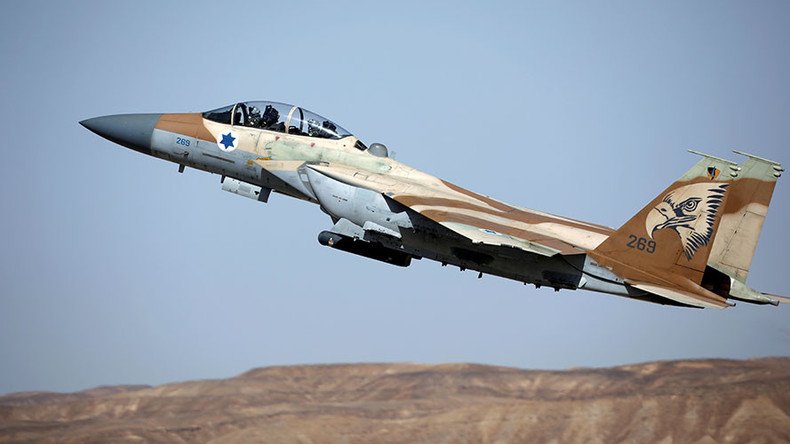 The Israeli Defense Force has attacked two Syrian army tanks after a dozen spillover projectiles landed in the Israel-controlled part of the Golan Heights from Syrian territory.
The Israeli military said several projectiles fired from Syria "hit an open area" in the northern Golan Heights. No injuries were reported.
Calling the incident an "unacceptable violation of Israeli sovereignty," IDF aircraft targeted the "origin of launches and two Syrian tanks".
In response to over 10 projectiles launched from Syria, IAF aircraft targeted origin of launches & 2 Syrian tanks

— IDF (@IDFSpokesperson) June 24, 2017
The Israeli army instructed farmers and civilians near the Quneitra border crossing into Syria to avoid open fields, the Jerusalem Post reports.
An IDF spokesperson told the news outlet that Israel's retaliation came less than an hour after the spillover fire.
The IDF reportedly stressed that it views Damascus as "ultimately responsible for what is happening in its territory."
READ MORE: Netanyahu to Putin: Israeli airstrikes in Syria will continue
Syrian government forces said the Israeli warplanes, in fact, targeted a parking lot and a residential building in the suburbs of al-Baath city in the Quneitra Governorate. They added that the Israeli airstrike resulted in civilian casualties and material damage, as reported by the SANA news agency.
No Syrian military targets were hit by the Israelis, SANA added, citing military sources.
Israel rigorously guards the western part of the Golan Heights, which it captured from Syria during the 1967 Six-Day War. It has also been regularly violating Syria's sovereignty during the country's six-year-long conflict. The IDF has conducted several night air raids on Syrian targets that it claimed were weapons systems being shipped to Lebanon by the militant Hezbollah group, which supports Damascus.
The latest high-profile incident occurred in March, when Syrian air defense fired missiles at Israeli jets returning from an airstrike on a target near Palmyra. One of the Syrian missiles was shot down by an Israeli SAM missile over Israeli territory.
The first recorded combat engagement of the Arrow air defense system prompted the IDF to officially confirm its role in the attack. Usually Israel neither denies nor confirms involvement in airstrikes in Syria.
Following the incident, Israeli Prime Minister Benjamin Netanyahu said his country will continue to attack targets in Syria as it sees necessary.
You can share this story on social media: