US coalition still owes explanation over downing of Syrian warplane – Lavrov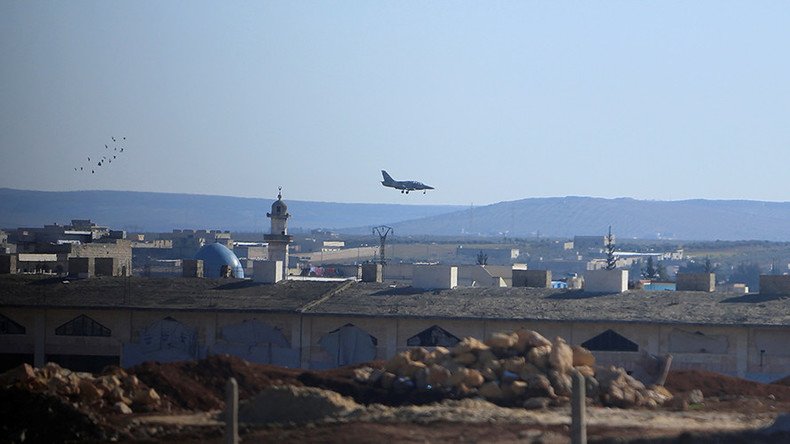 Moscow is still waiting for an explanation from Washington about the downing of a Syrian warplane, the Russian Foreign minister has said after talks with his French counterpart Jean-Yves Le Drian. Sergey Lavrov also expressed hope that US actions won't undermine anti-terrorist efforts in Syria.
"There is a mechanism [to avoid Syria airspace incidents between Russia and US] that is now suspended after the US shot down that plane," Lavrov told reporters. "We have requested a detailed explanation through the Ministry of Defense. We expect that it will be provided."
READ MORE: US-led coalition downs Syrian army plane in southern Raqqa
The US-led coalition shot down a Syrian Su-22 fighter jet over the province of Raqqa on Sunday saying it allegedly dropped bombs on the Kurdish-led Syrian Democratic Forces (SDF) militia. The Syrian government countered that it was carrying out operations against Islamic State (IS, formerly ISIS/ISIL).
This incident, considered an act of aggression and a violation of sovereignty by Moscow and Damascus, led to the Russian Defense Ministry suspending cooperation with its US counterparts within the framework of the Memorandum on the Prevention of Incidents and Ensuring Air Safety in Syria.
Lavrov added that he hopes the American-led coalition's efforts in Syria will not undermine the Syrian government's struggle against terrorism.
"We cannot but remember that throughout this crisis, starting with the process that we began with [former US Secretary of State] John Kerry with the participation of the military and intelligence services, there was a growing feeling that Jabhat al-Nusra, either intentionally or otherwise, was spared from any serious blows by our American partners."
"We frankly talk about this with the Americans, and I will definitely put this question before [the current Secretary of State] Rex Tillerson in the very near future, I hope. But there must be a complete clarity."
Lavrov and Le Drian discussed Syria among other issues and seem to have reached some level of mutual understanding.
"We paid particularly close attention to Syria," Lavrov said. "We have a common understanding that this crisis can only be solved through an inclusive national dialogue with the active support of the international community, as stipulated by the UN Security Council's decisions, maintaining an absolutely uncompromising struggle against terrorist organizations."
"We have a common enemy," Le Drian added. "Terrorist groups that want to use Syrian territory in order to organize attacks in our territories, and who are preparing militants, militarily and ideologically. We believe that a return to stability must go through a political transition process."
"Neither Russia nor France is interested in the spread of terrorism on Syrian soil," Le Drian said. He added,however, that "we are interested in the end of the civil war in Syria and the end to the mass killings for which the Assad regime is responsible."
The conflict in Syria has been raging since March 2011 and according to the UN, more than 220,000 people have been killed as various armed militant formations and terrorist groups seized control of large swathes of land in the country.
The US-led international coalition openly intervened in the conflict in September 2014 under the pretext of fighting Islamic State terrorists. Since then, it has repeatedly been accused of targeting Syrian government positions, supporting rebel forces and occasionally bombing civilian targets in the process.
Russian Air Force and military advisors were deployed to Syria in 2015 following an official request from Damascus, which pleaded for Tehran's and Moscow's help in supporting their anti-terrorist operations and to facilitate the reconciliation process in the liberated territories.
You can share this story on social media: