US continues to 'stab Russia in the back' with Syrian offensives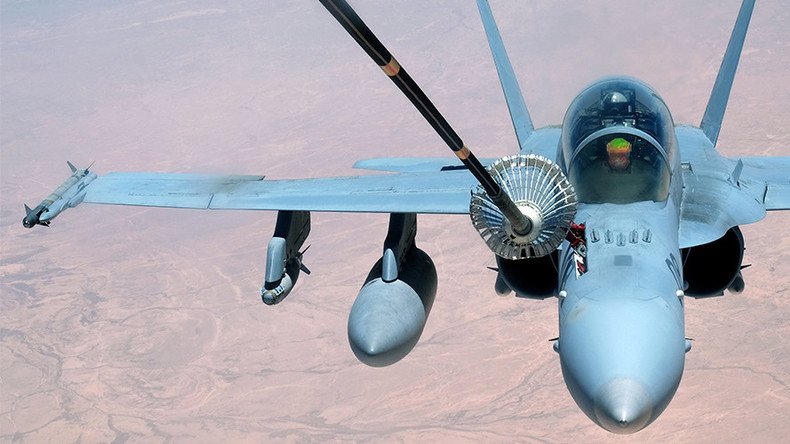 The US claims its downing of a Syrian jet to be self-defense. But imagine some country taking over part of Washington State, and denying the US Air Force from flying there, Syria Solidarity Movement member Rick Sterling explained to RT.
Russia disagrees with Washington's claim the shooting down of a Syrian fighter jet on Sunday was an 'act of self-defense' and has demonstrated its displeasure by halting cooperation with the US-led coalition in Syria over the incident.
Washington's top military commander General Joseph Dunford was hard-pressed to explain the legal grounds for targeting the Syrian military, and his response rather fell flat.
RT: General Joseph Dunford attempted to justify the shooting down of the Syrian plane earlier on Monday. What do you make of that? Is there a legal basis?
Rick Sterling: Absolutely not. General Dunford was referring to the Authorization for Use of Military Force that was passed in 2001 after 9/11. That was related to Al-Qaeda in Afghanistan. So, now he is trying to pretend that this somehow justifies attacking Syrian ground forces and Syrian air force inside Syria. So, it is preposterous.
We keep saying we're 'fighting ISIS,' but on at least two occasions we've struck Syrian ground forces in southern Syria. Now we've shot down this Syrian plane, which we claim was launching strikes against the so-called Syrian Democratic Forces, the mainly Kurdish force. But they insist that they were striking against ISIS. I don't know how this cannot be seen as at least de-facto, if not intentionally, benefiting ISIS because we know that the Syrian is driving to the East in order to relieve the outpost at Deir ez-Zor where strong forces have been holding out for a very long time, completely surrounding by ISIS. And I don't see how you could interpret this strike as anything other than trying to interrupt that progress to East. - Jim Jatras, former US diplomat
RT: Can America claim to be acting in self-defense when many would dispute the legality of any US military involvement in Syria?
RS: That is exactly right and it is an exceedingly dangerous situation. The US has been funding a proxy army in Syria since 2011, and in April of this year the US attacked the Syrian air force base near Homs. In May of this year they attacked Syrian ground forces near al-Tanf and did that again earlier in June. And just on Sunday we had them attacking and bringing down a Syrian jet. So, they just keep moving the line and getting more and more aggressive. And all the while claiming it for self-defense. Just imagine if another country was to come in and say they were taking over part of Washington State and the US air force has no right to fly over Washington State anymore...
Obviously, there is no justification for the US operating in Syria. He is thinking that he has the blessing from his government, the Congress, but he doesn't have the blessing from the Syrian government or international bodies to operate in that region… It's not a good thing to see the United States and Russia not cooperating. The potential for more run-ins and encounters is just going to go up without this formal acknowledgement of cooperation. - Michael Hughes, journalist and foreign policy strategist
RT: The US has said that in the wake of the incident they will be relocating their air force in Syria. Where might they relocate to?
RS: I am not sure. What we know is that the US is saying one thing but we have to take their words with a big grain of salt because they often do something totally different. The US will say that they respect Syrian sovereignty, but their actions are completely contrary to that right now. So, what we've got going on is a clear violation of international law, it is illegal to fund a proxy army attacking a sovereign state, it is illegal to fly over a state without authorization, and it is an obvious act of war and aggression to go into another country and shoot the army and shoot down the air force of the sovereign state…
The Russians have been saying all along that they want to work with their partners, the US, and Donald Trump ran on a campaign of working with Russia to defeat ISIS, but we keep having these stabs in the back. Last September we had an agreement, and the US forces 'accidentally' attacked Syrian forces near Deir ez-Zor instead of ISIS and that allowed ISIS to overrun that Syrian Army camp.
The statements, views and opinions expressed in this column are solely those of the author and do not necessarily represent those of RT.
You can share this story on social media: