55 min. to report collision? Japan probes freighter crew's actions after hitting US destroyer
Published time: 19 Jun, 2017 12:19
Edited time: 20 Jun, 2017 08:22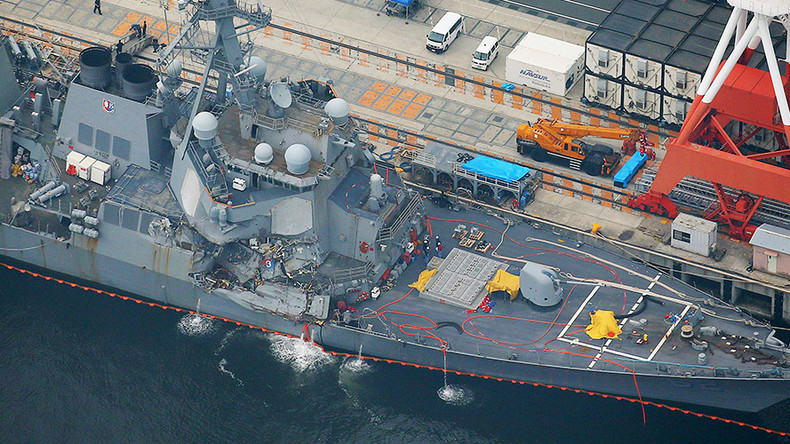 Tokyo has launched an investigation into why it took nearly an hour to report a fatal collision between a US Navy destroyer and a Philippines container ship. Seven US sailors were killed in the crash off the coast of Japan.
Japanese Coast Guard official Tetsuya Tanaka said Monday that the military branch is trying to determine what the crew of the Philippines-flagged ACX Crystal was doing between the time of the collision with the USS Fitzgerald and the moment the accident was reported almost an hour later, AP reported.
He said officials are planning to obtain a device with communications records, while noting that Japan's Transport Safety Board also started an accident investigation on Monday.
Crew members of the Philippines ship phoned in the accident at 2:25am on Saturday, saying it had just happened. This prompted the Japanese Coast Guard to initially state that the collision had occurred at 2:20am on Saturday.
However, after interviewing the container ship's crew members, Japanese authorities changed the time of the collision to 1:30am – leaving 55 minutes unaccounted for.
A spokeswoman for the container ship's operator NYK Line, Nanami Meguro, agreed with the revised timing of the accident.
She said the ship was "operating as usual" until a collision took place at 1:30am, as seen on a ship tracking service used by the company. Meguro said the ship reported the collision at 2:25am, but she could not provide details about what the ship was doing for nearly an hour before that call was made.
"Because it was in an emergency, the crewmembers may not have been able to place a call," she said, as quoted by AP.
According to a track of the container ship's route by MarineTraffic, it made a sudden turn at about 1:30am, as if it was trying to avoid something. It then continued eastward before making a U-turn and returning to the area near the collision at around 2:20am.
READ MORE: 7 missing, at least 3 injured as US Navy destroyer crashes into trade ship off Japan coast
No charges have been made in connection with the accident so far, though Coast Guard officials are investigating the collision as a possible case of professional negligence.
Speaking in reference to the accident on Monday, Vice Admiral Joseph Aucoin, the commander of the US Navy's 7th Fleet, told reporters that "our deepest sympathies are with the families of these sailors."
The US Navy is conducting its own investigation and do not speculate on the cause, but will likely be co-operating with Japan, a spokesman for Japan's Transport Safety Board told AFP.
There have been around 30 boat crashes in the area over the past decade, including a 2013 incident in which six Japanese crew members died after their cargo ship crashed with another vessel in the early morning hours, a coastguard spokesman said, as cited by AFP.