Iran & China conduct joint naval exercises in strategic Strait of Hormuz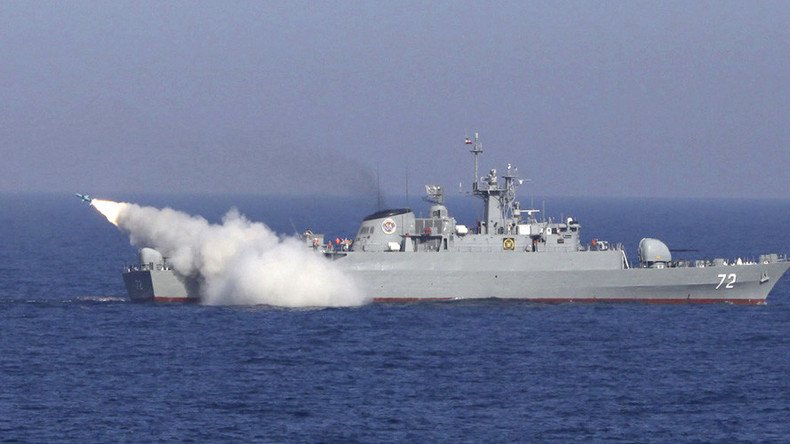 Iranian and Chinese Naval forces are participating in joint drills in the strategically important Strait of Hormuz. The naval maneuvers come amid growing tensions between the US and Iran, as Washington prepares a new round of sanctions against Tehran.
A total of four vessels and two helicopters displayed their military capabilities on Sunday during a day of joint exercises in the strait connecting the Persian Gulf with the Gulf of Oman.
The Chinese fleet, which includes the Chang Chun guided-missile destroyer, the Chao Hu replenishment ship, the Jin Zhou frigate, and a helicopter, arrived in the Iranian southern port of Bandar Abbas on Thursday. An Iranian destroyer and a helicopter joined them for the drills.
READ MORE: The Qatar blockade, petro-yuan & coming war on Iran
The exercises, which had been planned in advance, are aimed at promoting interaction and strengthening confidence between the navies of the two nations, according to Rear Admiral Shen Hao, Commander of China Navy Task Force Group 150, as cited by Iran's IRNA news agency.
It is the second time the Chinese navy has visited the Iranian port since 2014.
Animosity between the US and Iran has been growing since Donald Trump took office in January. The most recent spike in tensions flared up when the US Senate approved a new set of sanctions against Tehran. Although the bill has yet to be passed in the House of Representatives and signed into law by the president, Iran has blasted the proposed penalties, saying they would violate the long-negotiated nuclear deal signed by Iran and six major powers back in 2015.
The Strait of Hormuz, which lies between the Persian Gulf and the Gulf of Oman, has become the setting of a faceoff between Tehran and Washington, as around 30 percent of global oil exports pass through the strategic waterway annually. In April, a US Navy guided-missile destroyer, the USS Mahan, fired a warning flare after an Iranian Revolutionary Guard vessel came within 1,000 meters.
In March, the US Navy said Iranian forces had "harassed" American warships with fast-attack boats that came dangerously close to a US-led five-vessel flotilla passing through the strait, which included an American aircraft carrier. The Islamic Republic dismissed those allegations, putting the blame "for any unrest in the Persian Gulf" on Washington.
Tehran has also repeatedly carried out missile tests in the Strait of Hormuz, further enraging Washington. The latest cruise missile test in the area, which occurred in early May, failed, according to US defense officials. Iran had successfully tested the Hormuz-2 naval missile in early March, however.
You can share this story on social media: