'Cowardly terrorist attack': 3 women killed in shopping mall blast in Bogota, Colombia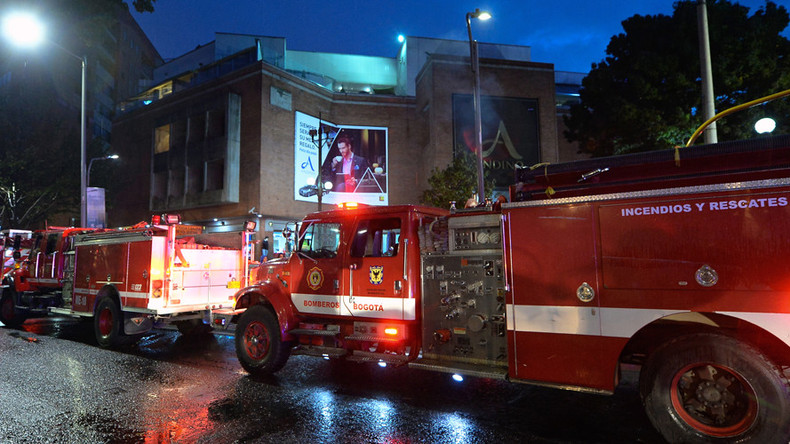 The powerful explosion that rocked a shopping center in the Colombian capital's tourist district has been called a terrorist attack by Bogota's mayor. At least three women, including a French volunteer, died in the blast. Several others were seriously injured.
Bogota Mayor Enrique Peñalosa has tweeted that three women were killed in the "bomb" blast, and one more remains in serious condition. Peñalosa has called the explosion a "cowardly terrorist attack."
The explosion targeted the Centro Andino Mall in the Zona Rosa neighborhood, which is regarded as one of the most luxurious upper-class and tourist districts in Latin America. The blast occurred in the women's restroom on the mall's second floor.
One of the victims has been identified as a 23-year-old French woman who had spent six months volunteering in Colombia. The woman, who is said to have worked in a poor Colombian neighborhood, was reportedly killed days before her planned return to France.
The other two victims, who have been identified in a hospital statement as a 31-year-old woman and a 27-year-old woman, are believed to be Colombian. The statement said one woman remains in critical condition.
Earlier, extremely graphic images of seriously injured women and a video showing a smoke-filled mall corridor appeared on social media.
RT Spanish earlier cited police as confirming at least 11 injuries were caused by the blast.
Ambulances and fire engines are working at the scene, and the entire mall has reportedly been evacuated.
Colombian President Juan Manuel Santos strongly condemned the attack, announcing that he was returning to the capital to take charge of the situation.
France's ambassador to Colombia, Gautier Mignot, tweeted that he is "shocked by the death" of a French woman in the blast and vowed to provide support for the victim's family.
Meanwhile, messages of condolences for the victims and words of support for the Colombian government have started pouring in. The Mexican government said it "expresses its solidarity with the people and the government of Colombia," and "deplores the loss of human lives."
Conveying its condolences to the families of the victims and those who were affected by the blast, the US Embassy in Bogota pledged to "provide any support requested by the Colombian authorities" in the aftermath of the attack.
Meanwhile, the National Liberation Army (ELN), a guerrilla group engaged in an ongoing armed standoff with government forces, denied responsibility for the attack.
"ELN-Paz repudiates the attack on Centro Comercial Andino against civilians. We share the pain and we sympathize with the victims," the group's negotiators wrote on its official Twitter account.
In February, ELN claimed responsibility for the bomb attack in Bogota, in which a police officer was killed and dozens of people were injured, including civilians.